Diamond Pad Eye|Lifting Pad Eye|Eye Plate|Stainless Steel
Diamond Pad Eye is also call Diamond Eye Plate, Lifting Pad Eye, Deck Plate, Mooring Plate, which is made from 316 marine grade stainless steel for maximum corrosion resistance and durability. The pad eyes consist of diamond base plate and U bolt Pad eye. It's easy and quick to install on the boats, yachts and other mounted surfaces. Sizes and styles can bespoke upon requests.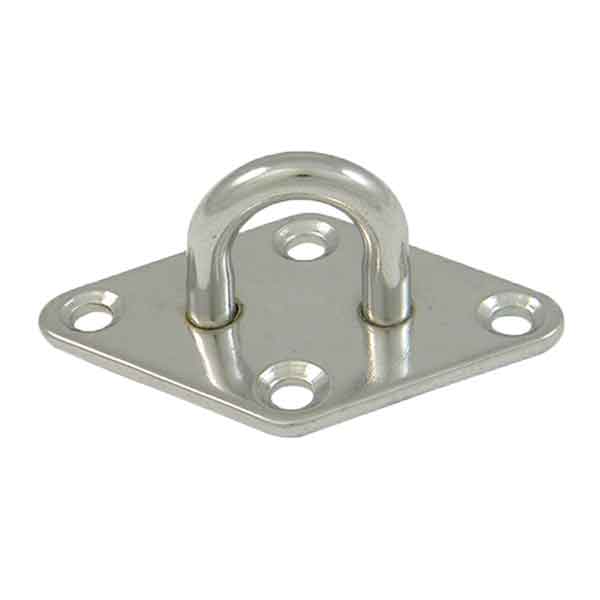 Material: Stainless Steel 316, 304.
Processing: Precision Casting & Welding.
AISI316 Stainless steel is marine grade due to its good performance of corrosion resistance.
Quick & Easy Installation Design.
Finish: Highly Polished.
Application: Deck Fittings, Industry, Architecture.
Packing: Plywood cases.
Bespoke sizes are available.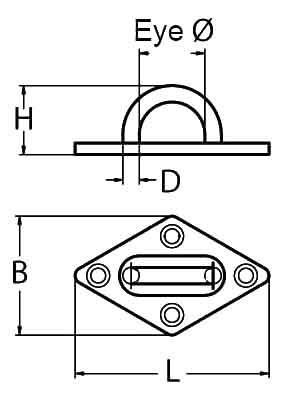 | Item | D mm | L mm | B mm | H mm | Eye Ø mm |
| --- | --- | --- | --- | --- | --- |
| 5mm Pad Eye | 5 | 60 | 36 | 20 | 16 x 13 |
| 6mm Pad Eye | 6 | 65 | 40 | 26 | 19 x 16 |
| 8mm Pad Eye | 8 | 80 | 50 | 32 | 22 x 19 |
Hits: 15