We fabricate and supply both steel & stainless steel wire rope. The constructions will be 1*7, 1*19, 7*7, 6*7+FC, 7*19+IWR, 6*19+FC, 6*12+7FC, 6X7, 6X19, 6X37, and etc. The diameter will range from 0.8mm- 264mm. Our wire ropes are widely used for lifting, marine, mining, petroleum, bridge, construction, elevator, excavator, and etc.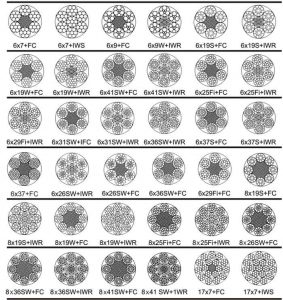 Wire Rope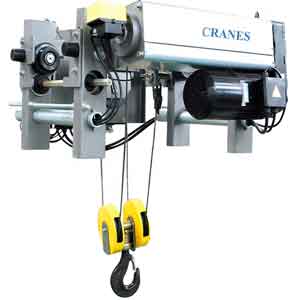 Our hoisting wire rope is used for lifting, cranes, harbor, metallurgy.
The wire rope constructions are 6X26WS+IWRC, 6X31WS+IWRC, 6X36WS+IWRC, 6XK31WS+IWRC, 6XK36WS+IWRC, 8XK26WS+IWRC, 8XK31WS+IWRC, 35WXK7, 15XK7+IWRC.
The nominal diameter of the wire rope will range from 8mm to 70mm.
The marine wire ropes/cables are used for ship, dredger, trawler, port handling.
The marine wire ropes are certified by CCS, LR, ABS, DNV, BV.
Marine Ropes constructions: 6X36WS+IWR(38-77mm), 6X41WS+IWRC(52-90mm), 6X49SWS+IWRC(52-90mm), 6X47WS+IWRC(52-90mm), 6X52WS+IWRC(77-115mm), 6X61FWS+IWRC(77-115mm), 8X36WS+IWRC, 8X55SWS+IWRC(60-88mm), 8X65FNS+IWRC, 8X80WSNS+IWRC, 8X84WSNS+IWRC, 8X111SWSNS+IWRC
Elevator Wire Rope/ Hoist Cable is designed & produced according to the standard of GB8903, JISG3525, OTS5111.
The Elevator lift rope has good performance of flexibility, low elongation, and anti-fatigue.
The Elevator Rope Constructions: 6X19S+FC, 6X19W+FC, 6X25Fi+FC, 8X19S+FC, 8X19W+FC, 8X25Fi+ FC.
The Elevator hoist rope nominal diameter: 6mm-22mm.
The Excavator wire rope is widely used in mining and construction.
The excavator wire rope is made of compacted strand steel core and has good performance of wear resistance and fatigue resistance.
The rope constructions: FPF8X36WS+IWRC, FPF8X37FS+IWRC, FPF 8 X K36WS+ IWRC, FPF 8XK37FS+IWRC.
Nominal Diameter: 40-70mm.
Petroleum Wire Ropes comply with APL-9A Standard. It's linear contacted and has high tensile.
Petroleum Wire Ropes are used in oil field of both land and ocean such as drilling lines, rod and tubing pull lines, horses head pumping unit lines, torpedo lines, winch lines, sand, and etc.
Rope Constructions: 6X19S+ FC, 6X25Fi +FC, 6X29Fi+ FC, 6X 31WS+FC, 6X36WS+FC
Nominal Diameter: 8-60mm.
Bridge Wire Rope has high performance of high tensile, corrosion resistance.
Constructions: 8X36WS+IWRC, 8X41WS+ IWRC
Diameter: 36-70mm
Rope Way Wire Rope is designed with the Seale-Warrington structure and full lock coil strand and hs high tensile strength, low elongation, fatigue resistance.
Constructions: 6X36WS+FC, 6X19S+FC, 6X7+FC, 6X25Fi+FC
Diameter:8-60mm
Mining Wire Rope is compacted designed and specially used in the mining hoisting.
Mining Wire Ropes Constructions: 6X19, 6X37, 6X61, 6X91, 8X19, 19X7, 6X25TS +FC, 6X28TS+FC, 6VX30+FC, 6VX34+FC, 6VX37+FC,
Spiral Strand Ropes are used in cables, suspender and wind cables of suspension bridges, towers, supports and suspenders for cable roof structures, anchor, and mooring lines.
Material: Alloy Steel.
Diameter: 6-135mm.
Stainless Steel Wire Rope includes SS316 marine grade cable, SS304 Stainless Steel Wire Rope, SS316L Stainless Steel Wire Rope. It has a good performance of corrosion resistance.
Constructions: 1X7, 1X19, 7X7, 7X19, 19X7,3X3, 3X7, 1X37, 6X7+FC, 6X7+IWSC, 6X19+FC, 6X19+IWSC, 6X19+IWRC, 6X37+FC, 6X37+IWSC, 6X37+IWRC, 6X12+7FC, 6X15+FC, 6X24+7FC, 6X19S+FC, 6X19S+IWRC, 8X19S+FC, 8X19S+IWRC, 18X7+FC, 18X7+IWSC, 19X7, 6X36SW, 6XWS36+IWRC, 35WX7
Hits: 96