Tubular Thimbles With Gusset|Winch Line Thimbles|Gusseted Tube Thimble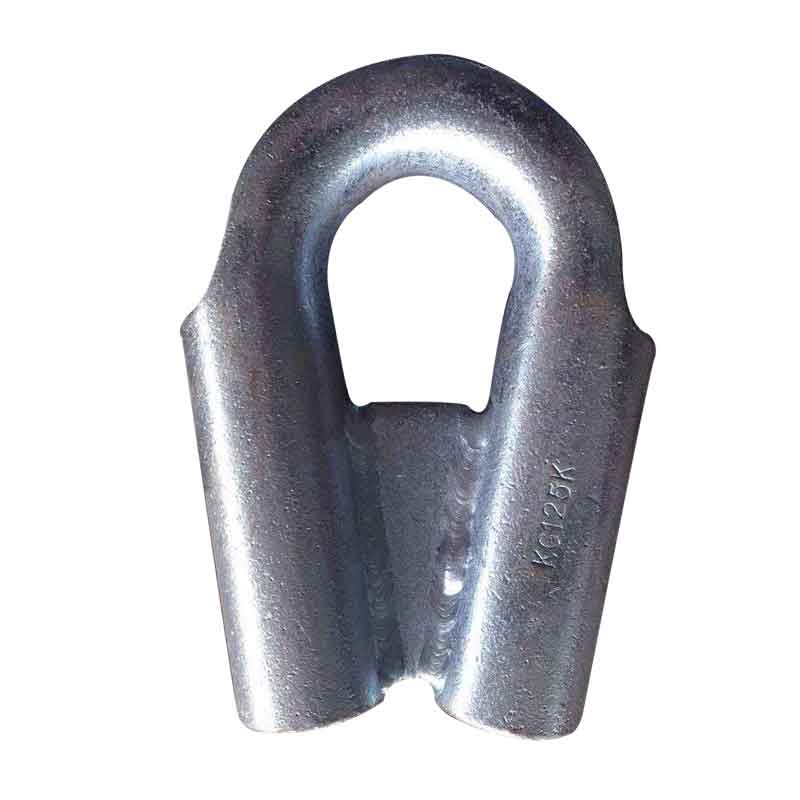 Material: Carbon Steel, Stainless Steel.
Finish: Electro-Galvanized, Hop dip galvanized, painting coated.
Applications: The welded gusset on tube thimbles will prevent the thimble from collapsing. It will be used for wire rope winch lines, synthetic rope terminations. 
Packing: Carton, Ply wooden cases.
| Rope Ф mm | A mm | B mm | C mm | D mm | E mm | F mm | kg/ea |
| --- | --- | --- | --- | --- | --- | --- | --- |
| 10 | 12 | 84 | 23 | 4 | 8 | 35 | 0.21 |
| 12 | 15 | 95 | 27 | 5 | 10 | 49 | 0.4 |
| 14 | 17 | 100 | 27 | 5 | 10 | 49 | 0.48 |
| 16 | 19 | 112 | 32 | 5 | 12 | 43 | 0.6 |
| 18 | 22 | 125 | 35 | 5 | 15 | 50 | 0.71 |
| 22 | 25 | 150 | 45 | 6.3 | 16 | 59 | 1.21 |
| 24 | 28 | 157 | 45 | 7 | 16 | 61 | 1.6 |
| 26 | 30 | 170 | 47 | 7 | 18 | 78 | 1.91 |
| 32 | 35 | 190 | 60 | 7 | 22 | 93 | 2.6 |
| 38 | 45 | 228 | 70 | 7 | 27 | 94 | 3.5 |
| 42 | 50 | 255 | 75 | 7 | 35 | 96 | 4.2 |
Hits: 142