7X19 Stainless Steel Wire Rope|Aircraft Cables/Ropes
7X19 Stainless Steel Wire Rope is made from 316 marine grade or aircraft stainless steel. The cables are more flexible than 1X19, 7X7, 7X19 strands ropes. It has sizes of 1.2, 2, 3, 4, 5, 6, 8, 10, 12, 16, 18, 20, 22mm. 7X19 wire rope has 7 strands with 19 wires per strand. It's widely used for marine, industrial, architectural applications.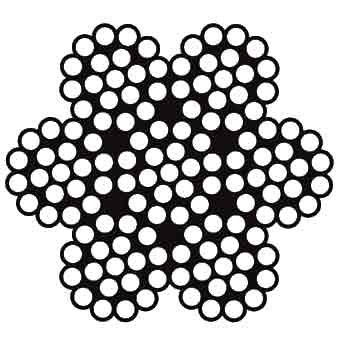 Material: Stainless Steel 316, 304.
Finish: Highly Polished.
Features: AISI316 Stainless steel is marine grade due to its good performance of corrosion resistance.
Number of Stands: 7
Number of Wires per strand: 19
Tensile Strength of Wire: 1570 N/mm2
The most Flexible wire rope construction.
Standard: BS MA 29.
Packing: Plywood reel.
Bespoke sizes are available.
Applications: Control cables, Guardrail, Standing rigging, Running rigging, Steering cable, Marine/Saltwater environment, Sewage treatment works, Wire rope slings, Davit ropes.
7X19 Wire Rope Breaking Load Specifications:
| Diameter mm | Appro.Weight Kg/m | MBL KN | MBL Kg |
| --- | --- | --- | --- |
| 3 | 0.033 | 5 | 509 |
| 4 | 0.059 | 8.89 | 906 |
| 5 | 0.093 | 13.9 | 1417 |
| 6 | 0.134 | 20 | 2039 |
| 7 | 0.182 | 27.3 | 2783 |
| 8 | 0.238 | 35.6 | 3630 |
| 10 | 0.372 | 55.6 | 5669 |
| 12 | 0.535 | 80 | 8157 |
| 14 | 0.728 | 109 | 11114 |
Hits: 18