Carabiner W/ No Eye|Snap Hook|Karabiner|Snap Link|Stainless Steel
Stainless Steel Carabiner is also called snap hook, Karabiner, Snap Link, Carbine snap hook, Crab hook. It has no eye design for the smooth gate operation. It's a type of shackle for mountain climbing. SS316 grade stainless steel makes the carabiner ideal for corrosive environments. The surface will have been highly polished for a good look. Sizes from 3mm to 12mm and can bespoke.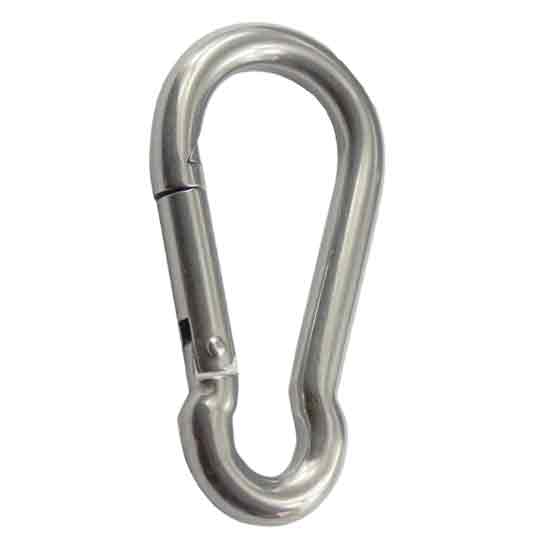 Material: Stainless Steel 316, 304.
Processing: Forged.
AISI316 Stainless steel is marine grade due to its good performance of corrosion resistance.
Finish: Highly Polished.
Application: Mountain Climbing, Outdoor sports.
Packing: Plywood cases.
Bespoke sizes are available.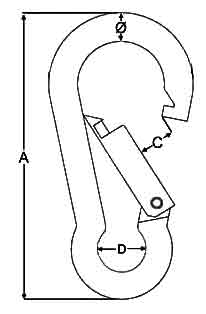 | Item | Ø mm | A mm | D mm | C mm |
| --- | --- | --- | --- | --- |
| 3mm Carabiner | 3 | 30 | 5 | 5.5 |
| 4mm Carabiner | 4 | 40 | 9 | 7 |
| 5mm Carabiner | 5 | 50 | 10 | 8 |
| 6mm Carabiner | 6 | 60 | 11 | 9 |
| 7mm Carabiner | 7 | 70 | 13 | 9 |
| 8mm Carabiner | 8 | 80 | 13 | 9 |
| 10mm Carabiner | 10 | 100 | 16 | 12 |
| 11mm Carabiner | 11 | 120 | 18 | 16 |
| 12mm Carabiner | 12 | 140 | 20 | 19 |
Hits: 14