DIN582 Eye Nuts|Stainless Steel AISI 316 Lifting Eye Nuts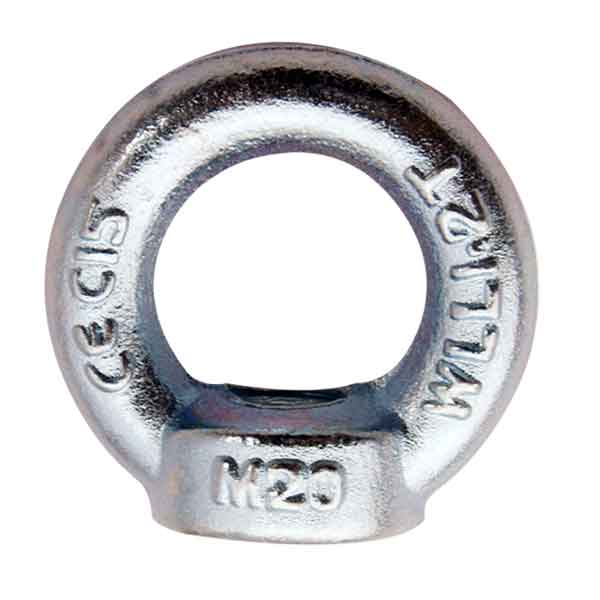 Material: C15 Steel, or Stainless Steel 316, 304.
Processing: Drop forged.
Proof Load: 2 times Working Load.
Breaking Load: 6 times working load.
Standard: DIN582.
Finish: Galvanized.
Packing: Carton, Ply wooden box.
Note: The lifting eye nuts must be screwed into the mounting surface fully.
Applications: Used as the permanent attachment on equipment of
motors, control cabinets, gear boxes, etc.
| Thread size d1 | d2 mm | d3 mm | d4 mm | e mm | h mm | k mm | m mm | r mm | Weight kg/1pc |
| --- | --- | --- | --- | --- | --- | --- | --- | --- | --- |
| M8 | 20 | 36 | 20 | 8,5 | 36 | 8 | 10 | 4 | 0,05 |
| M10 | 25 | 45 | 25 | 10 | 45 | 10 | 12 | 4 | 0,09 |
| M12 | 30 | 54 | 30 | 11 | 53 | 12 | 14 | 6 | 0,16 |
| M16 | 35 | 63 | 35 | 13 | 62 | 14 | 16 | 6 | 0,24 |
| M20 | 40 | 72 | 40 | 16 | 71 | 16 | 19 | 8 | 0,36 |
| M24 | 50 | 90 | 50 | 20 | 90 | 20 | 24 | 12 | 0,72 |
| M30 | 65 | 108 | 60 | 25 | 109 | 24 | 28 | 15 | 1,32 |
| M36 | 75 | 126 | 70 | 30 | 128 | 28 | 32 | 18 | 2,08 |
| M42 | 85 | 144 | 80 | 35 | 147 | 32 | 38 | 20 | 3,11 |
| M48 | 100 | 166 | 90 | 40 | 168 | 38 | 46 | 22 | 5,02 |
| M56 | 110 | 184 | 100 | 45 | 187 | 42 | 50 | 25 | 6,69 |
| M64 | 120 | 206 | 110 | 50 | 208 | 48 | 58 | 25 | 9,3 |
| M72x6 | 150 | 260 | 140 | 60 | 260 | 60 | 72 | 35 | 18,5 |
| M80x6 | 170 | 296 | 160 | 70 | 298 | 68 | 80 | 35 | 27,3 |
| M100x6 | 190 | 330 | 180 | 80 | 330 | 75 | 88 | 40 | 36,4 |
Hits: 6