JIS1168 Lifting Eye Bolts|Stainless Steel JIS1168 Eye Bolts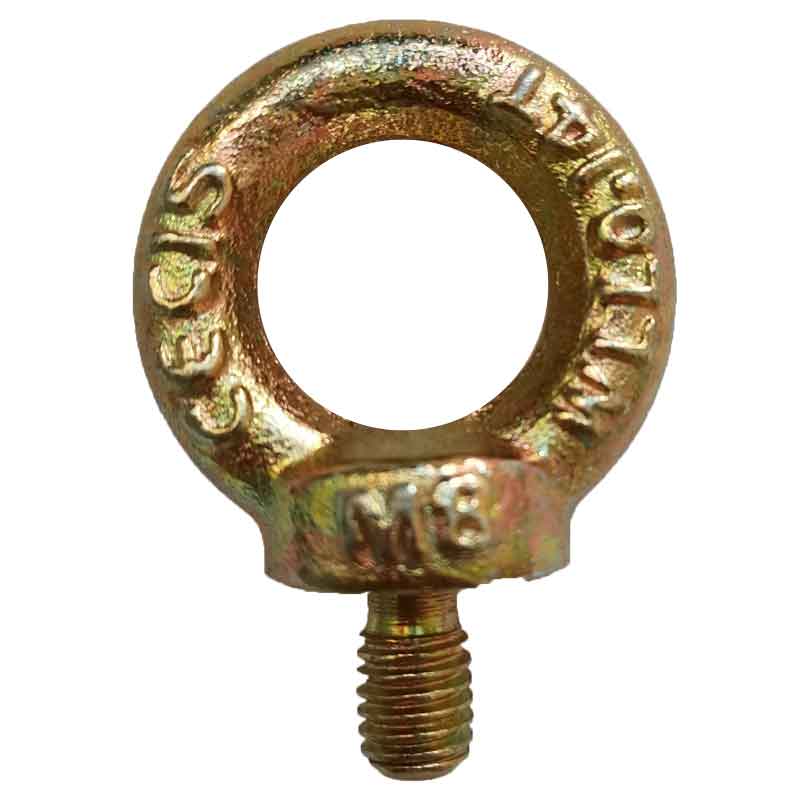 Material: C15 Steel, or Stainless Steel 316, 304.
Processing: Drop forged.
Proof Load: 2 times Working Load.
Breaking Load: 6 times working load.
Standard: JIS1168.
Finish: Galvanized.
Packing: Carton, Ply wooden box.
Note: The lifting eye nuts must be screwed into the mounting surface fully.
Applications: Used as the permanent attachment on equipment of
motors, control cabinets, gear boxes, etc.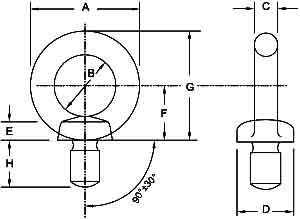 | Size | A mm | B mm | C mm | D mm | E mm | F mm | G mm | H mm | SWL(KN) Vertical | SWL(KN) 45° |
| --- | --- | --- | --- | --- | --- | --- | --- | --- | --- | --- |
| M8 | 32.6 | 20 | 6.3 | 16 | 5 | 17 | 33.3 | 15 | 0.785 | 0.785 |
| M10 | 41 | 25 | 8 | 20 | 7 | 21 | 41.5 | 18 | 1.47 | 1.47 |
| M12 | 50 | 30 | 10 | 25 | 9 | 26 | 51 | 22 | 2.16 | 2.16 |
| M16 | 60 | 35 | 12.5 | 30 | 11 | 30 | 60 | 27 | 4.41 | 4.41 |
| M20 | 72 | 40 | 16 | 35 | 13 | 35 | 71 | 30 | 6.18 | 6.18 |
| M24 | 90 | 50 | 20 | 45 | 18 | 45 | 90 | 38 | 9.32 | 9.32 |
| M30 | 110 | 60 | 25 | 60 | 22 | 55 | 110 | 45 | 14.7 | 14.7 |
| M36 | 133 | 70 | 31.5 | 70 | 26 | 65 | 131.5 | 55 | 22.6 | 22.6 |
| M42 | 151 | 80 | 35.5 | 80 | 30 | 75 | 150.5 | 65 | 33.3 | 33.3 |
| M48 | 170 | 90 | 40 | 90 | 35 | 85 | 170 | 70 | 44.1 | 44.1 |
| M64 | 210 | 110 | 50 | 110 | 42 | 105 | 210 | 90 | 88.3 | 88.3 |
| M80 | 266 | 140 | 63 | 130 | 50 | 130 | 263 | 105 | 147 | 147 |
| M90 | 302 | 160 | 71 | 150 | 55 | 150 | 301 | 120 | 177 | 177 |
| M100 | 340 | 180 | 80 | 170 | 60 | 165 | 335 | 130 | 196 | 196 |
Hits: 9