Drop Forged Wire Rope Clip|Clips|Grip|Grips|Clamp|Clamps
Drop forged Wire Rope clip is also called wire rope clips, wire rope grip/grips, wire rope clamp/clamps. It's hot drop drop forged from high tensile carbon steel for maximum working load and durability. The drop forged clip consists of U bolts, nuts and clip bases, which is used to fix the loop or eye of the wire rope in critical applications. Sizes from 1/8″ to 2-1/4″.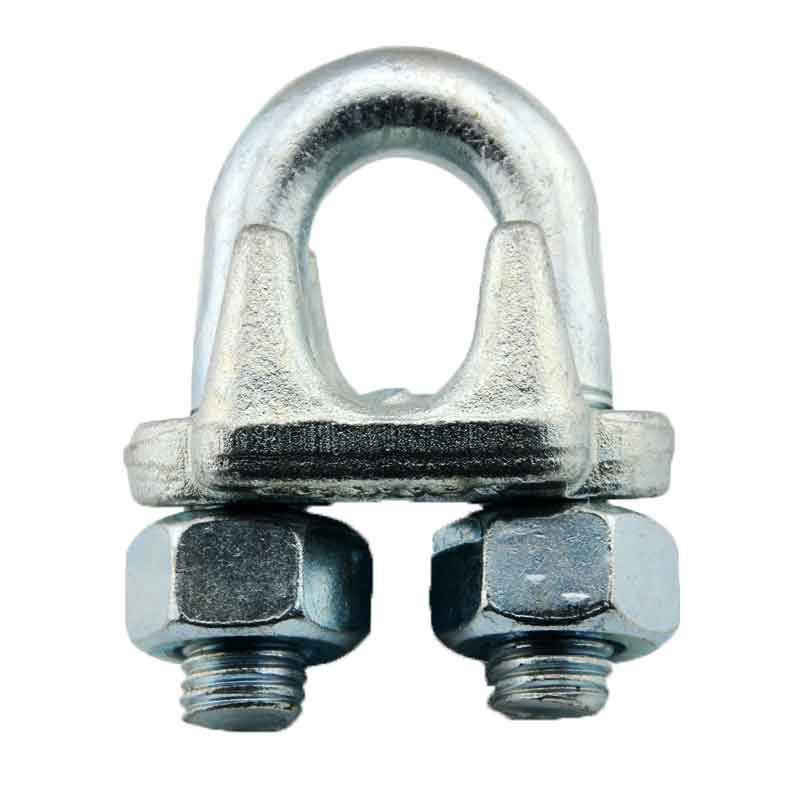 Material: Forged Carbon Steel.
Finish: Hot Dip Galvanised.
Application: Forged clips provide a greater rope bearing surface and more consistent strength than malleable cast iron clips. It reduces the possibility of hidden defects that are sometimes present in malleable cast iron clips. The forged clips will be recommended for critical applications.
Standard: ASME B30.26 &EN13411:2003.
Packing: Carton, Gunny Bag or as per request.
| Size (inch) | A (inch) | B (mm) | C (mm) | D (mm) | E (mm) | F (mm) | Weight (kg/100ea) |
| --- | --- | --- | --- | --- | --- | --- | --- |
| 1/8" | 7/32 | 18 | 11 | 12 | 23 | 20 | 3 |
| 3/16′ | 1/4" | 24 | 14 | 15 | 29 | 23 | 5 |
| 1/4" | 5/16" | 26 | 15 | 19 | 36 | 29 | 8.5 |
| 5/16" | 3/8" | 35 | 19 | 22 | 43 | 33 | 13 |
| 3/8" | 7/16" | 38 | 19 | 25 | 49 | 41 | 20 |
| 7/16" | 1/2" | 47 | 25 | 30 | 57 | 46 | 32 |
| 1/2" | 9/16" | 47 | 25 | 30 | 58 | 48 | 32 |
| 9/16" | 9/16" | 57 | 32 | 33 | 63 | 52 | 44 |
| 5/8′ | 9/16" | 60 | 32 | 33 | 63 | 52 | 44 |
| 3/4" | 5/8" | 70 | 36 | 38 | 72 | 56 | 63 |
| 7/8" | 3/4" | 79 | 41 | 44 | 80 | 62 | 93 |
| 1 | 3/4" | 89 | 45 | 48 | 88 | 66 | 110 |
| 1-1/8" | 3/4" | 98 | 51 | 51 | 91 | 71 | 120 |
| 1-1/4" | 7/8" | 108 | 56 | 59 | 105 | 80 | 170 |
| 1-3/8" | 7/8" | 118 | 56 | 60 | 106 | 80 | 200 |
| 1-1/2" | 7/8" | 125 | 60 | 66 | 113 | 87 | 220 |
| 1-5/8" | 1 | 135 | 66 | 70 | 120 | 92 | 330 |
| 1-3/4" | 1-1/8" | 146 | 70 | 78 | 134 | 97 | 420 |
| 2" | 1-1/4" | 161 | 75 | 85 | 147 | 111 | 610 |
| 2-1/4" | 1-1/4" |  - |  - |  - |  - |  - | 660 |
Hits: 55