Wire Rope Grip|Clip|Clamp|Stainless Steel
Wire Rope Grip is also called wire rope clip, wire rope clamp, which is made from 316 marine grade stainless steel for maximum corrosion resistance and durability. The grips are used to fix the cable loops or eyelets. It consists of a U bolt, a casting base, 2 nuts, which will be easy and quick for installation. The clamps are usually used with wire rope thimbles together.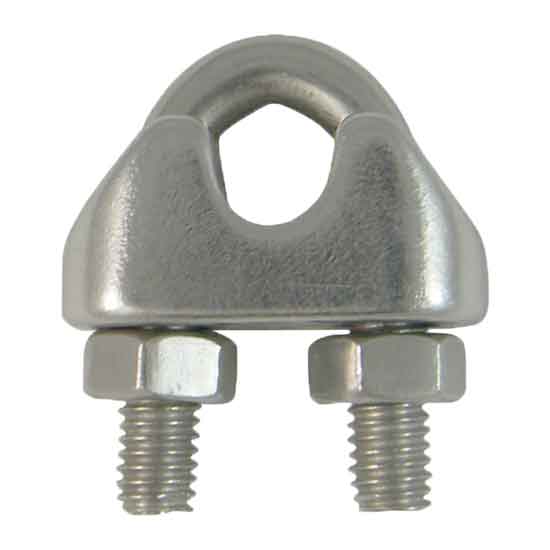 Material: Stainless Steel 316, 304.
Processing: Precision Casting & Machined.
AISI316 Stainless steel is marine grade due to its good performance of corrosion resistance.
Quick & Easy for installation.
Metric Thread & UNC Thread are available.
Finish: Highly Polished.
Application: Fixing for the wire rope loop.
Packing: Plywood cases.
Bespoke sizes are available.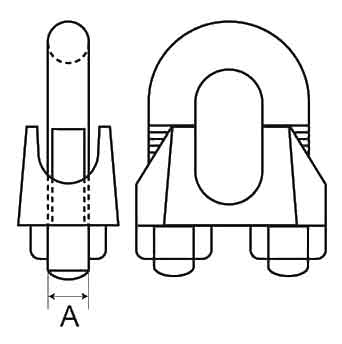 | Item | Wire mm | A mm |
| --- | --- | --- |
| 2mm Grip | 2 | M3 |
| 3mm Grip | 3 | M3 |
| 4mm Grip | 4 | M4 |
| 5mm Grip | 5 | M5 |
| 6mm Grip | 6 | M5 |
| 8mm Grip | 8 | M6 |
| 10mm Grip | 10 | M8 |
| 13mm Grip | 13 | M10 |
| 16mm Grip | 16 | M12 |
| 19mm Grip | 19 | M12 |
| 22mm Grip | 22 | M14 |
Hits: 19