Stainless Steel Cable Sheave|Wire Rope Sheaves
Stainless Steel Cable Sheave is made from AISI316 stainless steel for maximum corrosion resistance and durability. The Sheaves are designed for pulley blocks and they are highly polished to protect the steel wire ropes and fiber ropes. Nylon, Aluminum, Carbon Steel, Malleable Steel, Ductile Iron Sheaves can be also manufactured upon request. Bespoke sizes are available.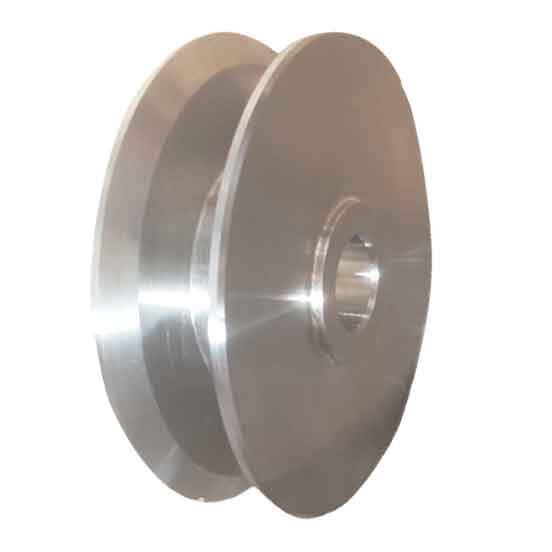 Material: Stainless Steel 316, 304.
Processing: Forging, Casting upon request.
AISI316 Stainless steel is marine grade due to its good performance of corrosion resistance.
Designed for Pulley Blocks to put ropes through .
Finish: Highly Polished.
Application: Marine, Architecture, Industry.
Packing: Plywood cases.
Bespoke sizes are available.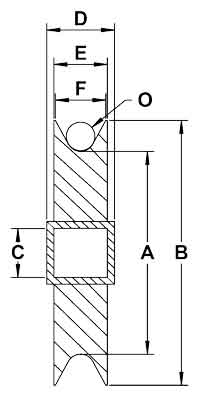 | Cable Size | WLL (lbs) | A | B | C | D | E | F | O | Weight (lbs) |
| --- | --- | --- | --- | --- | --- | --- | --- | --- | --- |
| 3/16" | 525 | 1 | 1.5 | 0.5 | 0.46875 | 0.4375 | 0.3125 | 0.1875 | 0.2 |
| 3/16" | 600 | 1.5 | 2 | 0.5 | 0.46875 | 0.4375 | 0.3125 | 0.1875 | 0.3 |
| 1/4" | 685 | 2 | 2.5 | 0.5 | 0.46875 | 0.4375 | 0.3125 | 0.25 | 0.5 |
| 1/4" | 800 | 2.5 | 3 | 0.5 | 0.46875 | 0.4375 | 0.3125 | 0.25 | 0.8 |
| 5/16" | 1550 | 3 | 3.5 | 0.75 | 0.6875 | 0.625 | 0.46875 | 0.3125 | 1.3 |
| 3/8" | 1550 | 3 | 3.5 | 0.75 | 0.6875 | 0.625 | 0.46875 | 0.375 | 1.3 |
| 3/8" | 1700 | 3.25 | 4 | 0.75 | 0.6875 | 0.625 | 0.46875 | 0.375 | 1.8 |
| 3/8" | 1850 | 4.25 | 5 | 0.75 | 0.6875 | 0.625 | 0.46875 | 0.375 | 2.9 |
Hits: 7