Copper Ferrules|Cable Crimping Sleeves|End Stops|Wire Ferrules
Copper Ferrules are known as copper tubing ferrule, cable crimping sleeves, wire rope crimp sleeves, end stops, wire ferrules. There are oval type & round type copper ferrules. It's made from seamless copper tubes according to DIN EN 13411-3 or BS 5281 standard to avoid corrosion. With a wire rope thimble and a ferrule, it can create a hard eye loop of wire rope sling.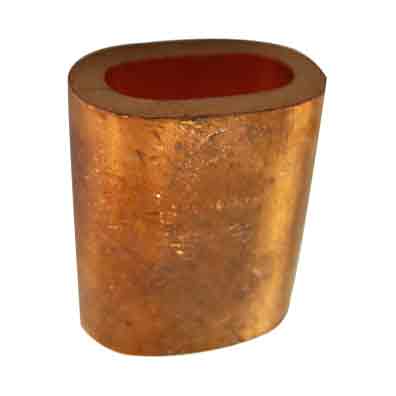 Material: Manufactured from seamless tubes.
Processing: Machining & Extruded.
Sizes: Bespoke sizes are available.
Certificates: ISO9001, CE, BV, SGS.
Features: Quick, reliable, safte and easy to use.
Finished with our cylindrical press dies.
Standard: DIN EN 13411-3 or BS 5281.
Packing: Carton with pallet, or as per requests.
Applications: Wire Rope Slings, Fiber ropes, Cable Railing for lifting, sails boats & yachts, and etc.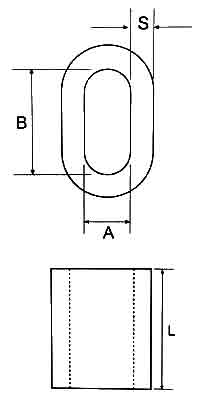 | Size (mm) | A (mm) | B (mm) | S (mm) | L (mm) | WT (kgs/1000ea) |
| --- | --- | --- | --- | --- | --- |
| 1 | 1.3 | 2.6 | 0.85 | 5 | 0.32 |
| 1.5 | 1.8 | 3.6 | 1.05 | 6 | 0.72 |
| 2 | 2.4 | 4.8 | 0.85 | 7 | 0.82 |
| 2.5 | 2.7 | 5.4 | 1.1 | 9 | 1.7 |
| 3 | 3.3 | 6.6 | 1.35 | 11 | 2.9 |
| 3.5 | 3.9 | 7.8 | 1.6 | 13 | 4.5 |
| 4 | 4.3 | 8.8 | 1.7 | 14 | 6.2 |
| 4.5 | 5.1 | 10.2 | 1.9 | 16 | 8.9 |
| 5 | 5.6 | 11.2 | 2.1 | 18 | 12.2 |
| 6 | 6.7 | 13.4 | 2.5 | 21 | 20 |
| 6.5 | 6.9 | 14 | 2.7 | 23 | 27 |
| 7 | 7.5 | 15 | 3 | 25 | 32 |
| 8 | 8.5 | 17 | 3.5 | 28 | 47 |
| 9 | 9.9 | 19.8 | 3.7 | 32 | 68 |
| 10 | 10.9 | 21.8 | 4.1 | 35 | 90 |
| 11 | 11.6 | 23.2 | 4.2 | 39 | 122 |
| 12 | 13.2 | 26.4 | 4.9 | 42 | 158 |
| 13 | 14.2 | 28.4 | 5.4 | 46 | 198 |
| 14 | 15.3 | 30.6 | 5.8 | 49 | 243 |
| 16 | 17.5 | 35 | 6.7 | 56 | 366 |
| 18 | 19 | 38 | 7.8 | 63 | 529 |
Hits: 17