Stainless Steel DIN766 Chains|Lifting Chain|Windlass Anchor Chain
AISI316 Stainless Steel DIN766 Chains are used as windlass anchor chain and lifting chain in the marine environments due to their good performance of corrosion resistance & high tensile strength. This round link chain will fit windlasses, chain blocks, shackles, anchors. Sizes range from 3mm to 32mm. The dimensions of inner length & outer width can be customized.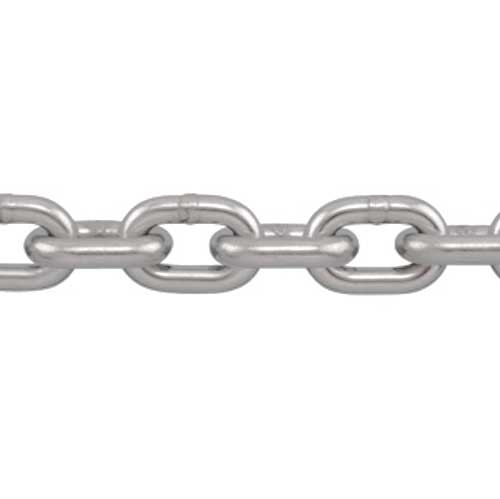 Material: Stainless Steel 316, 304 Solid bar.
Finish: Highly Polished.
Features: AISI316 Stainless steel is marine grade due to its good performance of corrosion resistance.
Flash Butt Welding Processing.
Short Pitch Design.
Grade: G70, G43, G40, G30. 
Bespoke sizes are available.
Applications: mooring, lashing, Lifting, and etc.
| D mm | A mm | B mm | kg/m |
| --- | --- | --- | --- |
| 2 | 12 | 7.5 | 0.07 |
| 3 | 16 | 11 | 0.16 |
| 4 | 16 | 13.5 | 0.32 |
| 5 | 18.5 | 17 | 0.5 |
| 6 | 18.5 | 20.2 | 0.8 |
| 7 | 22 | 23.8 | 1.1 |
| 8 | 24 | 27.2 | 1.4 |
| 9 | 27 | 30.6 | 1.8 |
| 10 | 28 | 34 | 2.2 |
| 11 | 31 | 37.4 | 2.7 |
| 12 | 36 | 40.8 | 3.1 |
| 13 | 36 | 44.2 | 3.8 |
| 14 | 41 | 47.6 | 4.4 |
| 16 | 45 | 54.4 | 5.7 |
| 18 | 50 | 61.2 | 7.3 |
| 19 | 53 | 64.6 | 7.97 |
| 20 | 56 | 68 | 9 |
| 22 | 62 | 75 | 11 |
| 23 | 64 | 78.2 | 12 |
| 26 | 73 | 88.4 | 15 |
| 28 | 78 | 95.2 | 18 |
| 30 | 84 | 102 | 19.5 |
| 32 | 90 | 108.8 | 23 |
Hits: 1