Stainless Steel Anchor Chain|Windlass Chain|Calibrated Chain
Stainless Steel Anchor Chains are also called windlass chain. There're G70, G43, G40, G30 anchor chains for different requirements of boat. The calibrated chain will fit many types of windlasses. SS316L grade stainless steel anchor chains have maximum corrosion resistance in marine applications. The chains have a short pitch for flexible use and high strength.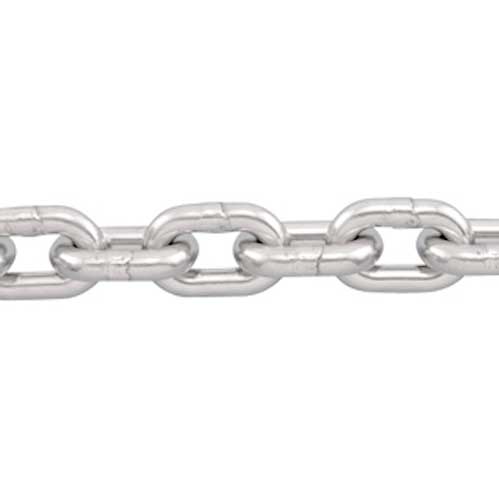 Material: Stainless Steel 316, 304 Solid bar.
Finish: Highly Polished.
Features: AISI316 Stainless steel is marine grade due to its good performance of corrosion resistance.
Flash Butt Welding Processing.
Short Pitch Design.
Grade: G70, G43, G40, G30. 
Bespoke sizes are available.
Applications: Windlass Anchoring Systerms.

| SIZE | A | B | C | D | E | WLL (LB) | BL (LB) | LB/FT |
| --- | --- | --- | --- | --- | --- | --- | --- | --- |
| 1/4" (9/32) | 0.28" | 0.87" | 0.36" | 0.94" | 1.39" | 2000 | 8000 | 0.76 |
| 5/16" | 0.32" | 0.95" | 0.41" | 1.04" | 1.56" | 2400 | 9600 | 0.94 |
| 3/8" | 0.39" | 1.10" | 0.54" | 1.32" | 1.86" | 3750 | 15000 | 1.6 |
| 1/2" | 0.51" | 1.38" | 0.74" | 1.74" | 2.38" | 6500 | 26000 | 2.74 |
Hits: 19