Stainless Steel Square U Bolt|U-Bolt|U Bolts
Stainless Steel Square U Bolt is made from 316 marine grade stainless steel for maximum corrosion resistance and durability. The Square U Bolts/U-Bolt are designed with 2 nuts, 2 washers, and 1 U Bolt. The U bolt is widely used for marine, industry, and architecture to attach the article to a certain structure. Both Metric thread and UNC thread of sizes can bespoke upon requests.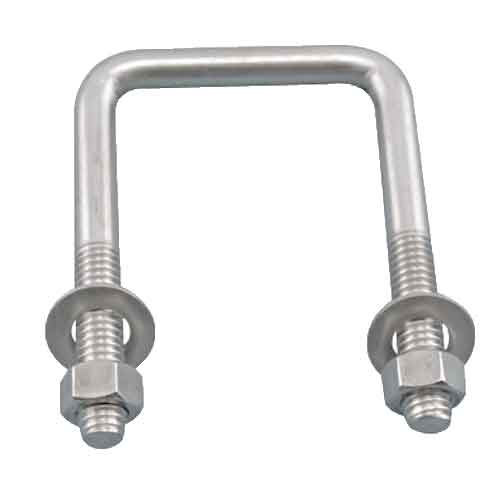 Material: Stainless Steel 316, 304.
Processing: Forged.
AISI316 Stainless steel is marine grade due to its good performance of corrosion resistance.
Metric Thread & UNC Thread are available.
Finish: Highly Polished.
Application: Marine, Industry, Architecture.
Packing: Plywood cases.
Bespoke sizes are available.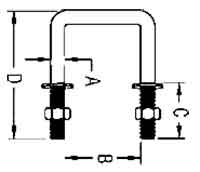 | Item | A Size | THREAD | B | C | D | WLL LB | WT LB |
| --- | --- | --- | --- | --- | --- | --- | --- |
| Square U Bolt | 3/8" | 3/8"-16 | 2.00" | 1.50" | 3.40" | 1090 | 0.25 |
| Square U Bolt | 3/8" | 3/8"-16 | 2.00" | 3.00" | 5.40" | 1090 | 0.35 |
| Square U Bolt | 3/8" | 3/8"-16 | 2.00" | 3.75" | 7.37" | 1090 | 0.45 |
| Square U Bolt | 3/8" | 3/8"-16 | 4.00" | 1.50" | 3.37" | 1090 | 0.3 |
| Square U Bolt | 3/8" | 3/8"-16 | 4.00" | 3.00" | 5.37" | 1090 | 0.4 |
| Square U Bolt | 3/8" | 3/8"-16 | 4.00" | 3.75" | 7.37" | 1090 | 0.5 |
| Square U Bolt | 3/8" | 3/8"-16 | 6.00" | 3.00" | 5.30" | 1090 | 0.45 |
| Square U Bolt | 3/8" | 3/8"-16 | 6.00" | 3.75" | 7.37" | 1090 | 0.55 |
| Square U Bolt | 3/8" | 3/8"-16 | 6.00" | 5.63" | 9.37" | 1090 | 0.65 |
Hits: 26