Stainless Steel Wire Rope Thimbles|Eyelet Thimbles AISI316
Stainless Steel Wire Rope Thimbles are known as eyelet thimbles. The thimble is used to keep the loop or eye of the rope in firm shape from crushing. The 316-grade stainless steel makes it maximum corrosion resistance and durability. Besides, we also supply standard commercial thimble, heavy-duty stub end thimble, British/US standard thimble, Reeving thimble.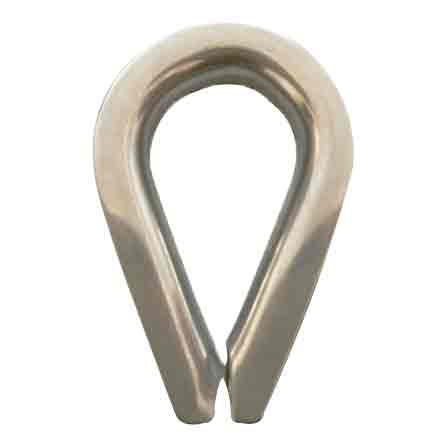 Material: Stainless Steel 316, 304 Solid bar.
Finish: Highly Polished.
Features: AISI316 Stainless steel is marine grade due to its good performance of corrosion resistance.
The Thimbles will be used with wire rope grips, ferrules to create the loop or eye of the rope.
Standard: BS464, US Federal Specifications Standard.
Packing: Carton with pallet.
Bespoke sizes are available.
Applications: Wire rope slings, Fiber Rope Slings in Marine industry of sail boats, yachts.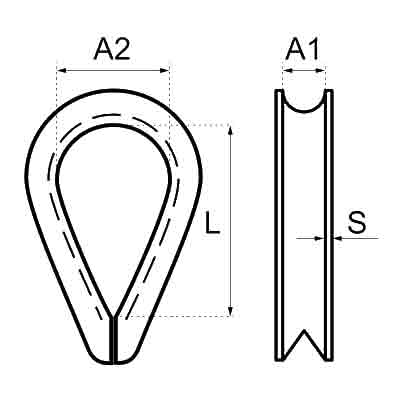 | Item | Wire mm | A1 mm | A2 mm | L mm | S mm |
| --- | --- | --- | --- | --- | --- |
| 2mm Thimble | 2 | 2 | 7 | 10 | 1 |
| 3mm Thimble | 3 | 3 | 10 | 17 | 1 |
| 4mm Thimble | 4 | 4 | 11 | 18 | 1 |
| 5mm Thimble | 5 | 5.5 | 13 | 20 | 1.2 |
| 6mm Thimble | 6 | 6.5 | 15 | 25 | 1.2 |
| 8mm Thimble | 8 | 8.5 | 18 | 29 | 1.5 |
| 10mm Thimble | 10 | 10.5 | 24 | 37 | 1.5 |
| 12mm Thimble | 12 | 14 | 29 | 50 | 3 |
| 16mm Thimble | 16 | 18 | 37 | 64 | 3 |
| 20mm Thimble | 20 | 22 | 45 | 75 | 4 |
| 24mm Thimble | 24 | 28 | 55 | 95 | 4 |
Hits: 42