JIS Type A Thimble|Japan Standard Wire Rope Thimble
JIS Type A Thimble is Japan Standard JIS B-2802/1964 Wire Rope Thimble Type A which is used to prevent the wire rope loop or eye from crushing. The thimbles are forged from the high tensile steel and heat-treated with tempering for durable use. The surface is finished with hot-dip galvanizing or electro-galvanizing upon request. Sizes from 6mm to 50mm and can bespoke.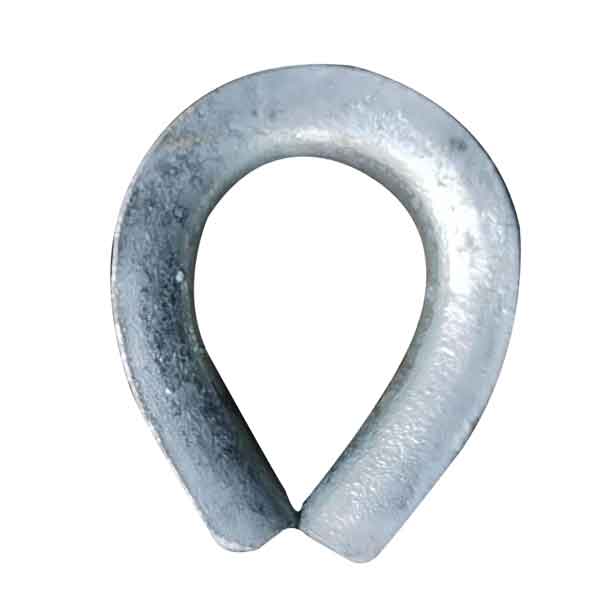 Material: High Tensile Carbon Steel.
Processing: Drop Forged and Tempered.
Finish: HDG, Galvanized, Original Color.
Application: To prevent the rope loop from crushing.
Packing: Gunny Bag, Ply wooden cases, Iron Box, or naked packing.
Sizes: 6mm to 50mm.
Bespoke sizes are available.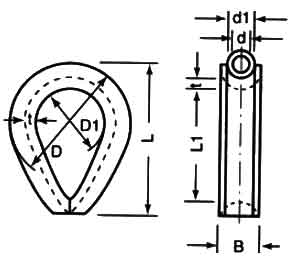 | Item | Size | d | B | D | D1 | L1 | L | t | t1 |
| --- | --- | --- | --- | --- | --- | --- | --- | --- | --- |
| JIS Type A Thimble | 6 | 6 | 8 | 27 | 16 | 26 | 36 | 3 | 1 |
| JIS Type A Thimble | 8 | 8 | 10 | 36 | 22 | 35 | 48 | 4 | 1 |
| JIS Type A Thimble | 9 | 9 | 11 | 40 | 25 | 38 | 51 | 4 | 1 |
| JIS Type A Thimble | 10 | 10 | 13 | 45 | 28 | 44 | 58 | 4 | 1.5 |
| JIS Type A Thimble | 12 | 12 | 15 | 54 | 34 | 52 | 68 | 5 | 1.5 |
| JIS Type A Thimble | 14 | 14 | 17 | 61 | 38 | 58 | 78 | 6 | 1.5 |
| JIS Type A Thimble | 16 | 16 | 20 | 72 | 44 | 68 | 92 | 7 | 2 |
| JIS Type A Thimble | 18 | 18 | 22 | 75 | 48 | 76 | 100 | 7 | 2 |
| JIS Type A Thimble | 20 | 20 | 24 | 86 | 54 | 85 | 112 | 8 | 2 |
| JIS Type A Thimble | 22 | 22 | 27 | 95 | 60 | 92 | 122 | 9 | 2.5 |
| JIS Type A Thimble | 24 | 24 | 29 | 105 | 65 | 102 | 136 | 10 | 2.5 |
| JIS Type A Thimble | 26 | 26 | 31 | 110 | 70 | 110 | 144 | 10 | 2.5 |
| JIS Type A Thimble | 28 | 28 | 33 | 120 | 75 | 120 | 156 | 11 | 2.5 |
| JIS Type A Thimble | 30 | 30 | 35 | 130 | 80 | 125 | 166 | 12 | 2.5 |
| JIS Type A Thimble | 32 | 32 | 38 | 140 | 85 | 135 | 180 | 13 | 3 |
| JIS Type A Thimble | 34 | 34 | 40 | 145 | 90 | 140 | 186 | 14 | 3 |
| JIS Type A Thimble | 36 | 36 | 42 | 150 | 95 | 150 | 196 | 14 | 3 |
| JIS Type A Thimble | 38 | 38 | 44 | 160 | 100 | 155 | 205 | 15 | 3 |
| JIS Type A Thimble | 40 | 40 | 46 | 170 | 105 | 165 | 220 | 16 | 3 |
| JIS Type A Thimble | 42 | 42 | 50 | 180 | 110 | 175 | 232 | 17 | 4 |
| JIS Type A Thimble | 44 | 44 | 52 | 190 | 115 | 180 | 242 | 18 | 4 |
| JIS Type A Thimble | 46 | 46 | 54 | 195 | 120 | 190 | 252 | 18 | 4 |
| JIS Type A Thimble | 48 | 48 | 56 | 205 | 125 | 195 | 260 | 19 | 4 |
| JIS Type A Thimble | 50 | 50 | 58 | 215 | 130 | 205 | 274 | 20 | 4 |
Hits: 429