8 Strands Polyester Rope|Dacron/Terylene/ Trevira Rope|Mooring Rope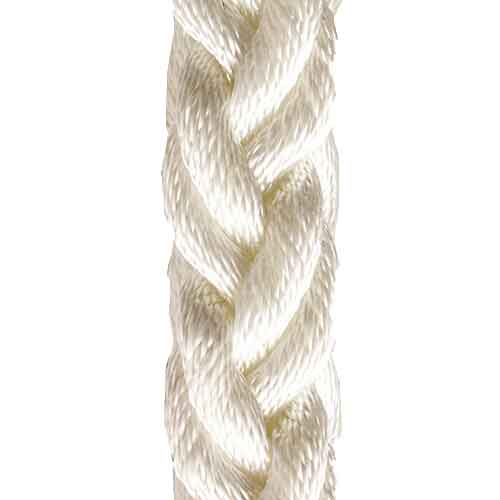 Material Features: Melting point: 265℃; Specific gravity: 1.38; Elongation at breaking:15~30%.
Advantages: UV resistance; Easy splicing; Good abrasion resistance.
Disadvantage: Polyester Lines will sink in the water; some braids are too stiff to absorb shock loads; not fit for jerking load.
Applications: Mooring line, H-Bitt working line, Lifting sling, Shock line.
| Size(mm) | Size(inch) | Weight(kgs/100m) | Weight(lb/100ft) | Break Load(kgs) | Break Load(lbs) |
| --- | --- | --- | --- | --- | --- |
| 18 | 3/4 | 27 | 18.13 | 7100 | 15600 |
| 22 | 7/8 | 39 | 26.18 | 10450 | 23000 |
| 24 | 1 | 50 | 33.57 | 12350 | 27200 |
| 28 | 1-1/8 | 59 | 39.61 | 15960 | 35200 |
| 30 | 1-1/4 | 65 | 43.64 | 16600 | 36600 |
| 32 | 1-5/16 | 77 | 51.7 | 21500 | 47000 |
| 36 | 1-1/2 | 104 | 69.82 | 26200 | 57700 |
| 40 | 1-5/8 | 118 | 79.22 | 31350 | 69000 |
| 44 | 1-3/4 | 146 | 98.02 | 36100 | 79500 |
| 48 | 2 | 175 | 117.49 | 45100 | 99300 |
| 52 | 2-1/8 | 206 | 138.3 | 51300 | 113000 |
| 56 | 2-1/4 | 235 | 157.77 | 58900 | 129800 |
| 60 | 2-1/2 | 276 | 185.3 | 69350 | 152800 |
| 64 | 2-5/8 | 307 | 206.11 | 76950 | 169500 |
| 68 | 2-3/4 | 348 | 233.64 | 101000 | 222500 |
| 72 | 3 | 402 | 269.89 | 96900 | 213400 |
| 80 | 3-1/4 | 496 | 333 | 121000 | 266500 |
| 88 | 3-5/8 | 593 | 398.12 | 148200 | 326400 |
| 96 | 4 | 704 | 472.64 | 174000 | 383000 |
| 104 | 4-1/4 | 824 | 553.21 | 208000 | 458000 |
| 112 | 4-5/8 | 958 | 643.17 | 233000 | 513200 |
| 120 | 5 | 1126 | 755.96 | 267000 | 588100 |
Hits: 80