Aluminum Double Barrel Ferrules|Hourglass Ferrules|Sleeves
Aluminum Double Barrel Ferrules are also called double barrel crimp sleeves, hourglass ferrules, double barrel aluminum ferrules. The duplex oval shape wire rope sleeve is extruded & machined from seamless aluminum material. It's quick, reliable, and safe to be attached to wire rope splicing. Copper/Stainless Steel hourglass ferrules are also available.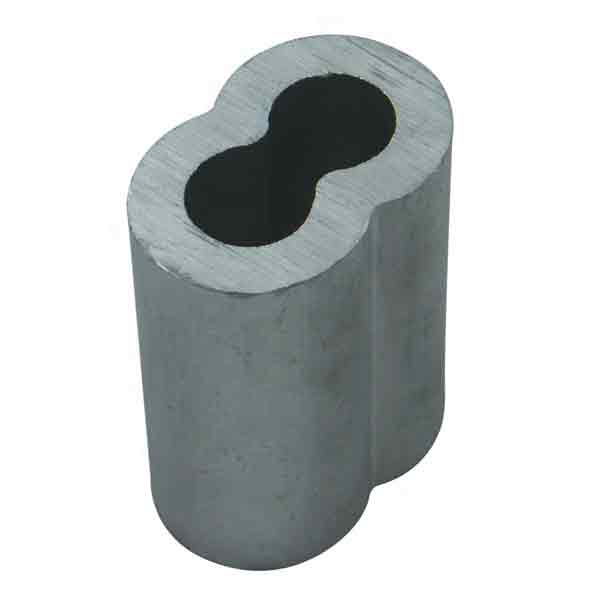 Material: Seamless Aluminum Material.
Processing: Machining & Extruded.
Sizes: Bespoke sizes are available.
Certificates: ISO9001, CE, BV, SGS.
Features: Quick, reliable, safte and easy to use.
Finish: Anodized.
Packing: Carton with pallet, or as per requests.
Applications: Wire Rope Slings, Fiber ropes, Cable Railing for lifting, sails boats & yachts, and etc.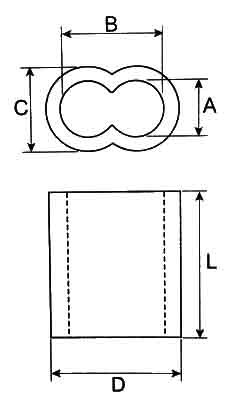 | Size inch | Size mm | A inch | A (mm) | B inch | B mm | C inch | C mm | D inch | D mm | L inch | L mm | kgs/1000ea |
| --- | --- | --- | --- | --- | --- | --- | --- | --- | --- | --- | --- | --- |
| 3/64 | 1.19 | 1/16 | 1.59 | 1/8 | 3.18 | 9/64 | 3.6 | 13/64 | 5.2 | 3/8 | 9.5 | 0.276 |
| 1/16 | 1.58 | 5/64 | 1.98 | 5/32 | 3.97 | 11/64 | 4.4 | 1/4 | 6.4 | 3/8 | 9.5 | 0.433 |
| 5/64 | 1.98 | 3/32 | 2.38 | 3/16 | 4.76 | 13/64 | 5.2 | 5/16 | 7.9 | 3/8 | 9.5 | 0.645 |
| 3/32 | 2.38 | 1/8 | 3.18 | 1/4 | 6.35 | 9/32 | 7.1 | 13/32 | 10.3 | 1/2 | 12.7 | 1.45 |
| 1/8 | 3.18 | 5/32 | 3.97 | 5/16 | 7.94 | 11/32 | 8.7 | 1/2 | 12.7 | 5/8 | 16 | 2.7 |
| 5/32 | 3.97 | 3/16 | 4.76 | 3/8 | 9.53 | 3/8 | 9.53 | 9/16 | 14.3 | 11/16 | 17 | 3.67 |
| 3/16 | 4.76 | 7/32 | 5.56 | 7/16 | 11.11 | 7/16 | 11.11 | 21/32 | 16.7 | 1 | 25 | 7.18 |
| 7/32 | 5.56 | 1/4 | 6.35 | 1/2 | 12.7 | 1/2 | 12.7 | 3/4 | 19 | 11/16 | 26 | 10 |
| 1/4 | 6.35 | 9/32 | 7.14 | 9/16 | 14.29 | 17/32 | 13.5 | 13/16 | 20.6 | 11/8 | 28 | 11.76 |
| 9/32 | 7.14 | 5/16 | 7.94 | 5/8 | 15.88 | 9/16 | 14.3 | 7/8 | 22.2 | 13/16 | 30 | 13.62 |
| 5/16 | 7.94 | 3/8 | 9.53 | 23/32 | 19.05 | 11/16 | 17.5 | 11/32 | 26.2 | 11/4 | 32 | 20.94 |
| 3/8 | 9.53 | 7/16 | 11.11 | 27/32 | 22.23 | 3/4 | 19.1 | 15/32 | 29.4 | 17/16 | 36 | 28.18 |
| 7/16 | 11.11 | 1/2 | 12.7 | 1 | 25.4 | 15/16 | 23.8 | 17/16 | 36.5 | 1 11/16 | 42 | 52 |
| 1/2 | 12.7 | 9/16 | 14.29 | 1 1/8 | 28.58 | 11/16 | 27 | 15/8 | 41.3 | 2 | 50 | 80.15 |
| 9/16 | 14.29 | 5/8 | 15.88 | 1 1/4 | 31.75 | 11/8 | 28.6 | 13/4 | 44.5 | 21/8 | 54 | 99.88 |
| 5/8 | 15.88 | 11/16 | 17.46 | 1 3/8 | 34.93 | 11/4 | 31.8 | 1 15/16 | 49.2 | 21/2 | 64 | 139.78 |
Hits: 24