High tensile Forged G-401 Chain Swivels|G401 Chain Swivels
G-401 Chain Swivels with round eye & oval eye are forged. It's used to connect chains, anchors, ropes. The swivels will prevent the chains & ropes from twisting & knotting. G-402 regular swivels & G-403 Jaw ends swivels will be also available.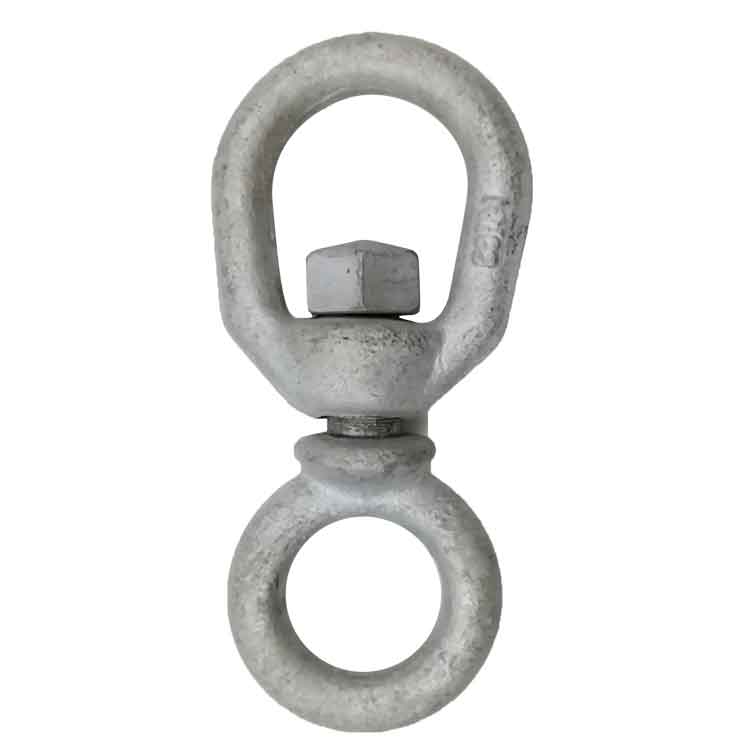 Material: Alloy steel & Quenched & Tempered.
Process: Drop forged Chain swivels with out bearing.
Standard: According to Federal Specification RR-C-271F.
Safety factor: 5:1 .
Finish: Hot dip Galvanized.
Note: The swivels are positioning devices and are not fit for rotating under load. For load swivels, ball bearing swivels will be better.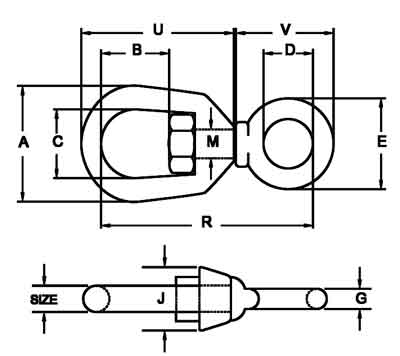 | Size (in.) | WLL (lbs.) | WT (lbs.) | A in | B in | C in | D in | E in | G in | J in | M in | R in | U in | V in |
| --- | --- | --- | --- | --- | --- | --- | --- | --- | --- | --- | --- | --- | --- |
| 1/4" | 850 | 0.13 | 1.25 | 0.69 | 0.75 | 0.62 | 1.12 | 0.25 | 0.69 | 0.31 | 2.25 | 1.69 | 1.25 |
| 5/16" | 1250 | 0.25 | 1.63 | 0.81 | 1 | 0.75 | 1.38 | 0.31 | 0.81 | 0.38 | 2.72 | 2.06 | 1.47 |
| 3/8" | 2250 | 0.54 | 2 | 0.94 | 1.25 | 1 | 1.75 | 0.38 | 1 | 0.5 | 3.44 | 2.5 | 1.88 |
| 1/2″ | 3600 | 1.12 | 2.5 | 1.31 | 1.5 | 1.25 | 2.25 | 0.5 | 1.31 | 0.63 | 4.25 | 3.19 | 2.44 |
| 5/8″ | 5200 | 2.09 | 3 | 1.56 | 1.75 | 1.5 | 2.75 | 0.62 | 1.5 | 0.75 | 5.13 | 3.88 | 2.94 |
| 3/4″ | 7200 | 3.09 | 3.5 | 1.75 | 2 | 1.75 | 3.25 | 0.75 | 1.88 | 0.88 | 5.78 | 4.94 | 3.46 |
Hits: 1