Forged G-402 Regular Swivels|G402 Chain Swivels|Eye&Eye Swivels
G-402 Regular Swivels with oval eyes are drop forged, quenched & tempered. G402 chain swivels are corrosion resistant after galvanized and can be used to connect chains, ropes in marine applications. G401/G402/G403 swivels are positioning devices and are not intended to rotate under load. Swivels with bearings are designed for loading applications.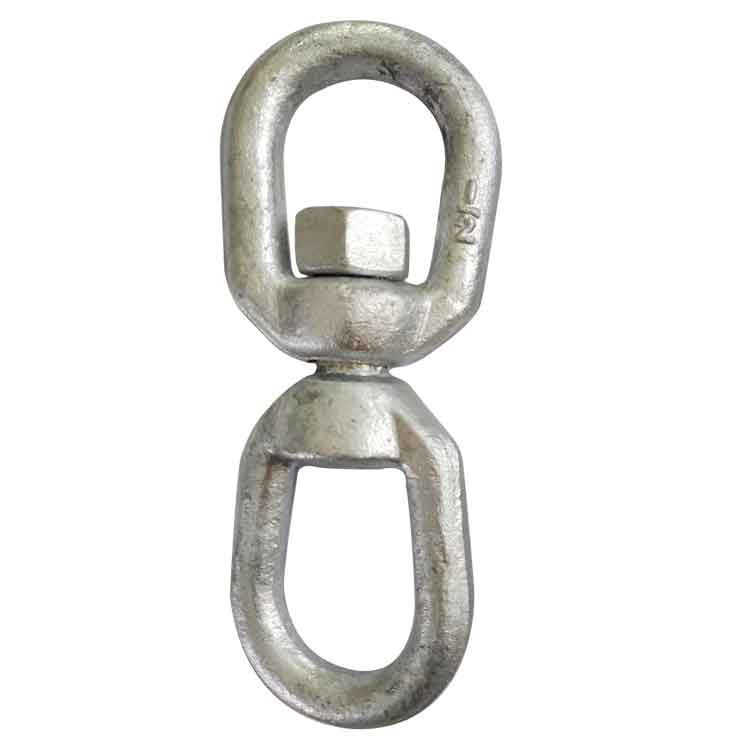 Material: Alloy steel & Quenched & Tempered.
Process: Drop forged Chain swivels with out bearing.
Standard: According to Federal Specification RR-C-271F.
Safety factor: 5:1 .
Finish: Hot dip Galvanized.
Note: The swivels are positioning devices and are not fit for rotating under load. For load swivels, ball bearing swivels will be better.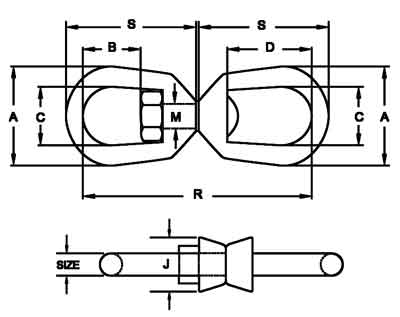 | Size (in.) | WLL (lbs.) | WT (lbs.) | A in | B in | C in | D in | J in | M in | R in | S in |
| --- | --- | --- | --- | --- | --- | --- | --- | --- | --- | --- |
| 1/4" | 850 | 0.21 | 1.25 | 0.69 | 0.75 | 1.06 | 0.69 | 0.31 | 2.94 | 1.69 |
| 5/16" | 1250 | 0.39 | 1.63 | 0.81 | 1 | 1.25 | 0.81 | 0.38 | 3.56 | 2.06 |
| 3/8" | 2250 | 0.71 | 2 | 0.94 | 1.25 | 1.5 | 1 | 0.5 | 4.31 | 2.5 |
| 1/2″ | 3600 | 1.32 | 2.5 | 1.31 | 1.5 | 2 | 1.31 | 0.63 | 5.44 | 3.19 |
| 5/8″ | 5200 | 2.49 | 3 | 1.56 | 1.75 | 2.38 | 1.5 | 0.75 | 6.56 | 3.88 |
| 3/4″ | 7200 | 4.02 | 3.5 | 1.75 | 2 | 2.63 | 1.88 | 0.88 | 7.19 | 4.31 |
| 7/8″ | 10000 | 6.25 | 4 | 2.06 | 2.25 | 3.06 | 2.13 | 1 | 8.38 | 5 |
| 1″ | 12500 | 8.95 | 4.5 | 2.31 | 2.5 | 3.5 | 2.38 | 1.13 | 9.63 | 5.75 |
| 1-1/4″ | 18000 | 16.37 | 5.63 | 2.69 | 3.13 | 3.69 | 3 | 1.5 | 11.44 | 6.75 |
| 1-1/2″ | 45200 | 45.79 | 7.09 | 3.88 | 4.09 | 3.88 | 3.75 | 2.25 | 16.69 | 9.91 |
Hits: 14