Hollow Base Cleat|Herreshoff Cleat|Blue Water Cleats|Stainless Steel
Hollow Base Cleat is also known as Herreshoff Cleat, Blue Water Cleat, which is made from stainless steel 316 for maximum corrosion resistance. The rope cleats have a round shape cross end. There're four countersunk fixing points in the hollow base plate for a secure installation of cleats. Sizes of cleat range from 100 to 303mm. Bespoke sizes are available.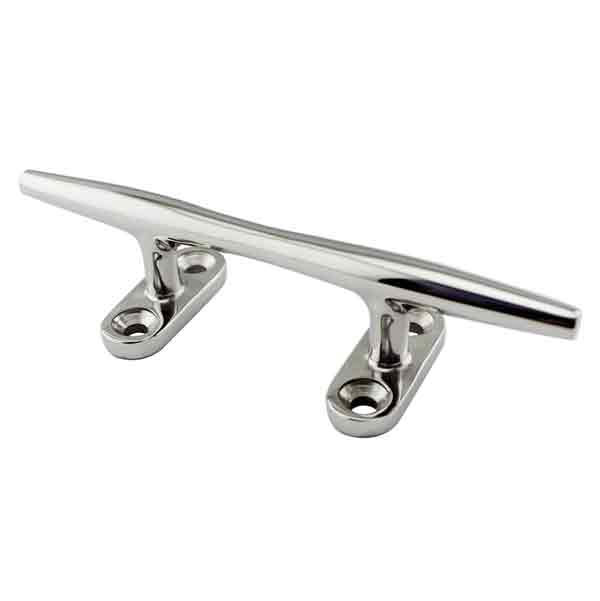 Material: Stainless Steel 316, 304.
Finish: Highly Polished.
Features: AISI316 Stainless steel is marine grade due to its good performance of corrosion resistance.
Installation: Hollow base plate with four countersunk fixing points for a secure installation.
Packing: Plywood cases.
Bespoke sizes are available.
Applications: Boats, Yachts.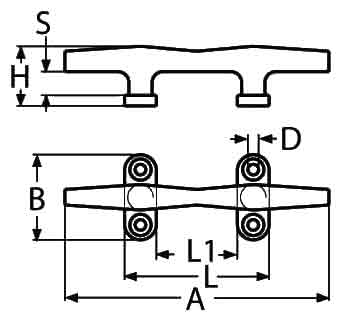 | Item | A mm | B mm | H mm | L mm | L1 mm | S mm | Hole mm |
| --- | --- | --- | --- | --- | --- | --- | --- |
| 100mm Hollow Base Cleat | 100 | 36 | 24 | 40 | 18 | 16 | 5.4 |
| 124mm Hollow Base Cleat | 124 | 40 | 27 | 50 | 25 | 19 | 5.8 |
| 151mm Hollow Base Cleat | 151 | 46 | 31 | 74 | 40 | 20 | 6.5 |
| 200mm Hollow Base Cleat | 200 | 55 | 39 | 93 | 53 | 24 | 6.5 |
| 243mm Hollow Base Cleat | 243 | 64 | 45 | 109 | 70 | 31 | 7.6 |
| 303mm Hollow Base Cleat | 303 | 71 | 55 | 122 | 78 | 31 | 7.6 |
Hits: 11