Trimline Cleat|Low Flat 4 Hole Cleat|Blue Water Cleats|Stainless Steel
The Trimline Cleat is the low flat cleats with 4/four holes. It's also called blue water cleat, halyard cleat, boat cleat, rope cleat, which is made from stainless steel 316 for maximum corrosion. The cleats should be through-bolted and have substantial backing. It's designed with four countersunk fixing points for secure installation. Sizes from 98 to 250mm.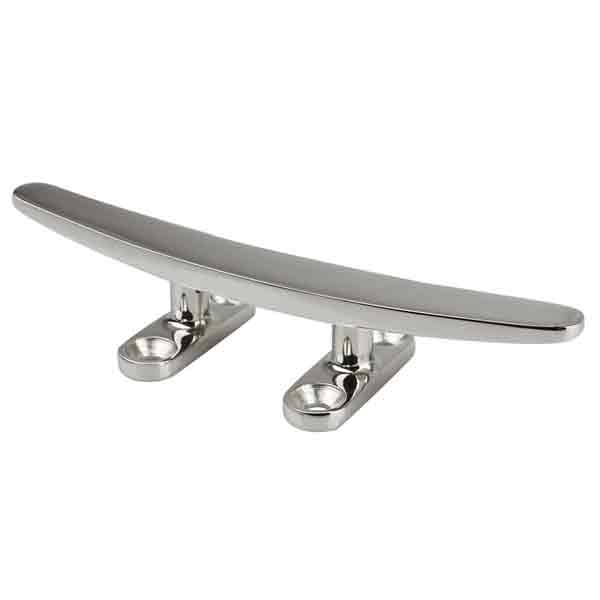 Material: Stainless Steel 316, 304.
Finish: Highly Polished.
Features: AISI316 Stainless steel is marine grade due to its good performance of corrosion resistance.
Packing: Plywood cases.
Bespoke sizes are available.
Applications: Boats, Yachts, Gardens, and outdoor architectures.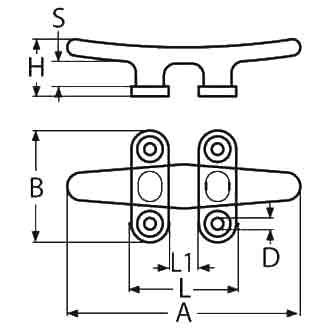 | Item | A mm | B mm | H mm | L mm | L1 mm | S mm | Hole mm |
| --- | --- | --- | --- | --- | --- | --- | --- |
| 98mm Low Flat Cleat | 98 | 36 | 22 | 42 | 17 | 15 | 4.6 |
| 124mm Low Flat Cleat | 124 | 46 | 25 | 56 | 26 | 19 | 5.5 |
| 150mm Low Flat Cleat | 150 | 60 | 29 | 70 | 33 | 20 | 6.1 |
| 200mm Low Flat Cleat | 200 | 60 | 40 | 80 | 34 | 29 | 6.5 |
| 250mm Low Flat Cleat | 250 | 65 | 41 | 78 | 29 | 28 | 7.6 |
Hits: 0