Folding Deck Cleat|Dock Cleat|Boat Cleat|Stainless Steel Cleats
Stainless Steel Folding Deck Cleat mounts on the surface of the boat. The dock cleats design makes the installation simple that it will need a countersunk screw/bolt to fix the boat cleat on the deck surfaces. The stud mounts with hidden fasteners or through-bolted with visible screw holes can be chosen. There're sizes of 155mm & 200mm.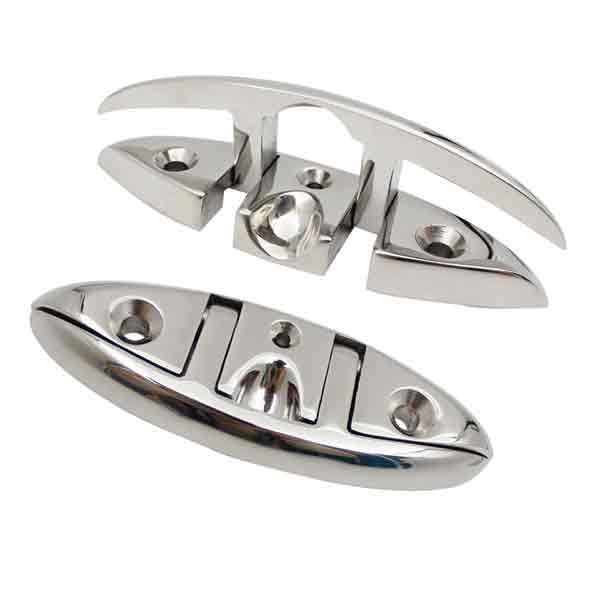 Material: Stainless Steel 316, 304.
Finish: Highly Polished.
Features: AISI316 Stainless steel is marine grade due to its good performance of corrosion resistance.
Installation: Drill two holes with standard drill bits for the mounting screws or studs.
Two styles to choose from: The stud mount (with hidden fasteners) or through-bolted (with visible screw holes)
These cleats lockdown when not needed, and spring up when the release button is pushed in.
No drain tubes or drain receptacles required. They do not leak into the boat.
Packing: Plywood cases.
Bespoke sizes are available.
Applications: Boats, Yachts, Gardens, and outdoor architectures.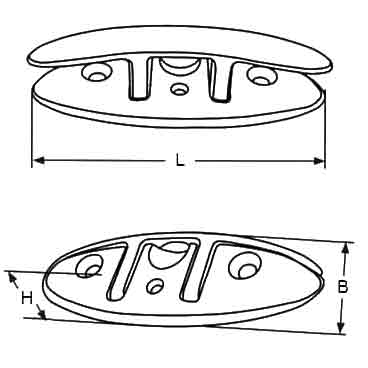 | Item | L mm | B mm | H mm |
| --- | --- | --- | --- |
| 155mm Cleat | 155 | 54 | 13.5 |
| 200mm Cleat | 200 | 73 | 15 |
Hits: 13