JIS Type Solid Thimble | JIS B 2802 Dead Eye Thimble | Heavy Duty Casting Thimbles
JIS Type Solid Thimble is also called JIS B 2802 Dead Eye Thimble, which is the heavy-duty casting thimble. The thimbles will fit for cranes of IHI or MHI. The middle hole will be inserted with a cooper bush or steel bush upon request to improve the friction resistance. The surface can be hot-dip galvanized or painted. And there're sizes from 20 to 40mm (rope diameter) and can bespoke.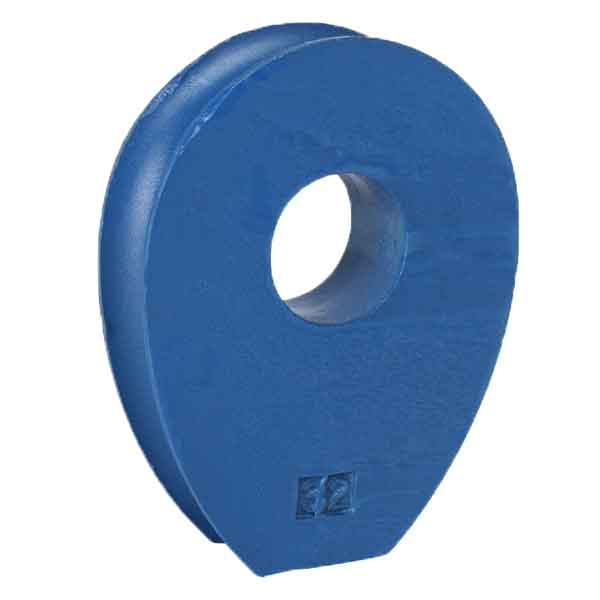 Material: Malleable Casting Steel, Ductile Iron
Standard: JIS B 2802 27A
Process: Casting
Heat treatment: Tempered
Finish: Hot Dip Galvanized, Electro-Galvanized, Galvanised, Zinc Plated, Self Color, Paiting
Cooper Bush or Steel Bush can be inserted into the middle hole upon request
Fit for Rope sizes from 20 to 40mm and can bespoke
Applications: sockets, wire ropes, Cables, Terminal fittings (ropes), Splicing, crane ropes, marine, Lifting equipment.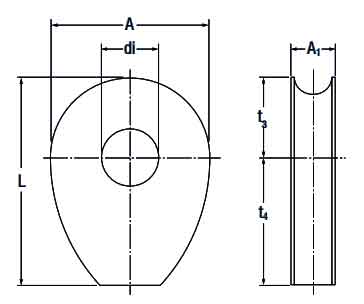 | Rope Dia mm | A mm | A1 mm | di mm | L mm | t3 mm | t4 mm | WT kg/ea |
| --- | --- | --- | --- | --- | --- | --- | --- |
| 20 | 105 | 29 | 42 | 136 | 52.5 | 83.5 | 1.67 |
| 22 | 110 | 31 | 42 | 144 | 55 | 89 | 2.06 |
| 24 | 120 | 33 | 50 | 156 | 60 | 96 | 2.46 |
| 26 | 130 | 35 | 50 | 166 | 65 | 101 | 3.06 |
| 28 | 140 | 38 | 50 | 180 | 70 | 110 | 3.92 |
| 30-31.5 | 145 | 40 | 55 | 186 | 72.5 | 113.5 | 4.51 |
| 32-33.5 | 150 | 42 | 55 | 196 | 75 | 121 | 5.23 |
| 35-40 | 190 | 52 | 75 | 242 | 95 | 147 | 9.55 |
Hits: 362