DIN580 Eye Bolts | DIN580 Lifting EyeBolts|Collar Eyebolts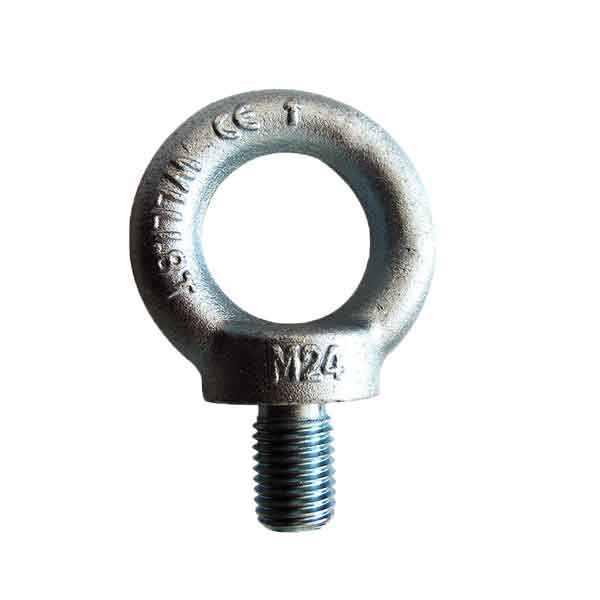 Material: C15 Steel.
Processing: Drop forged.
Finish: Galvanised, Self-color, painted。
Safe Factor: 6:1.
Warning: Working load in the specification is tested when the load is applied to eyebolts vertically.
Packing: Ply Wooden Cases, Carton.
DIN 580 lifting eye bolts should be applied according to the instrutions:
1. The eyebots thread length should be fit for the screw hole.
2. The eyebolt thread must be fully screwed up to the stop on the
mounting surface.
3. The material of the mounting surface must have the same mechanical
features of the eyebolt;
4. Never exceed the rated maximum load values.
| d1 | h mm | b mm | d2 mm | d3 mm | d4 mm | k mm | WLL for 1 bolts kgs | WLL for 2 bolts kgs |
| --- | --- | --- | --- | --- | --- | --- | --- | --- |
| M6 | 27.5 | 12 | 27 | 19 | 14 | 6.5 | 70 | 50 |
| M8 | 36 | 13 | 36 | 20 | 20 | 8 | 140 | 95 |
| M10 | 45 | 17 | 45 | 25 | 25 | 10 | 230 | 170 |
| M12 | 53 | 20.5 | 54 | 30 | 30 | 12 | 340 | 240 |
| M14 | 62 | 27 | 63 | 35 | 35 | 14 | 490 | 340 |
| M16 | 62 | 27 | 63 | 35 | 35 | 14 | 700 | 500 |
| M20 | 71 | 30 | 72 | 40 | 40 | 16 | 1200 | 830 |
| M22 | 90 | 36 | 90 | 50 | 50 | 20 | 1500 | 1050 |
| M24 | 90 | 36 | 90 | 50 | 50 | 20 | 1800 | 1270 |
| M27 | 109 | 45 | 108 | 65 | 60 | 24 | 2500 | 1650 |
| M30 | 109 | 45 | 108 | 65 | 60 | 24 | 3600 | 2600 |
| M33 | 128 | 54 | 126 | 75 | 70 | 28 | 4300 | 3200 |
| M36 | 128 | 54 | 126 | 75 | 70 | 28 | 5100 | 3700 |
| M42 | 147 | 63 | 144 | 85 | 80 | 32 | 7000 | 5000 |
| M45 | 168 | 68 | 166 | 100 | 90 | 38 | 8000 | 5500 |
| M48 | 168 | 68 | 166 | 100 | 90 | 38 | 8600 | 6100 |
| M52 | 187 | 78 | 184 | 110 | 100 | 42 | 9900 | 7300 |
| M56 | 187 | 78 | 184 | 110 | 100 | 42 | 11500 | 8300 |
| M64 | 208 | 90 | 206 | 120 | 110 | 48 | 16000 | 11000 |
| M72 | 260 | 100 | 260 | 150 | 140 | 60 | 21000 | 15000 |
| M80 | 298 | 112 | 296 | 170 | 160 | 68 | 28000 | 20000 |
| M100 | 330 | 130 | 330 | 190 | 180 | 75 | 38000 | 27000 |
Hits: 23