Pear Quick Link|Climbing Quick Link|Stainless Steel
Stainless Steel Pear Quick Link is made from 316 marine grade stainless steel for maximum corrosion resistance. This quick link is designed with a screw gate for securing fixing and fast & easy installation. It will offer quick solutions for the rigging and link applications. The quick links should be used under the instructions of working load limits. Sizes can bespoke.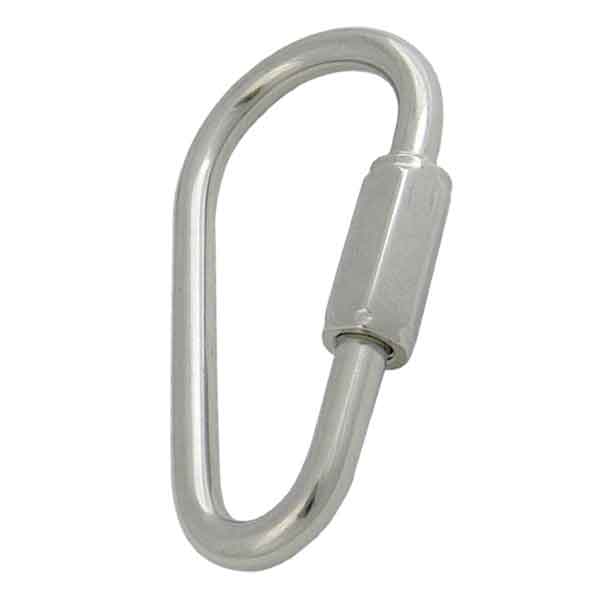 Material: Stainless Steel 316, 304.
Processing: Forged.
AISI316 Stainless steel is marine grade due to its good performance of corrosion resistance.
Screw Gate design for quick & security fixing.
Metric Thread & UNC Thread are available.
Finish: Highly Polished.
Application: Webbing Strap, chains, rope Conjunction.
Packing: Plywood cases.
Bespoke sizes are available.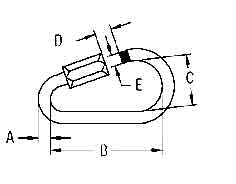 | Item | A Size | B | C | D | E | WLL LB | WT LB |
| --- | --- | --- | --- | --- | --- | --- | --- |
| Pear Quick Link | 1/8" | 1.79" | 0.80" | 0.34" | 0.21" | 200 | 0.03 |
| Pear Quick Link | 5/32" | 2.05" | 0.95" | 0.46" | 0.24" | 250 | 0.04 |
| Pear Quick Link | 3/16" | 2.35" | 1.10" | 0.46" | 0.29" | 575 | 0.07 |
| Pear Quick Link | 1/4" | 2.56" | 1.20" | 0.55" | 0.35" | 850 | 0.1 |
| Pear Quick Link | 5/16" | 3.37" | 1.45" | 0.66" | 0.44" | 1450 | 0.22 |
| Pear Quick Link | 23/64" | 3.45" | 1.59" | 0.70" | 0.49" | 1600 | 0.28 |
| Pear Quick Link | 3/8" | 3.50" | 1.50" | 0.67" | 0.52" | 1850 | 0.42 |
| Pear Quick Link | 1/2" | 4.47" | 2.12" | 0.88" | 0.60" | 3300 | 0.68 |
| Pear Quick Link | 9/16" | 5.14" | 2.26" | 1.05" | 0.69" | 4600 | 0.99 |
| Pear Quick Link | 5/8" | 5.74" | 2.52" | 1.17" | 0.76" | 5900 | 1.3 |
Hits: 4