Pear Shackle|Pear Shaped Anchor Joining Links|Kenter Shackle
Pear Shackle is also called Pear Anchor Joining Links, Pear Shaped End Shackle, Detachable Anchor Connecting Link, Pear Shaped Kenter Shackle. There're grades of U2, U3, U4, AM2, AM3, ORQ, R3, R3S, R4, R4S, R5. The pear-shaped link can replace the Kenter anchor link to connect the common link with the anchor shackle. The surface will be finished with painting or galvanizing.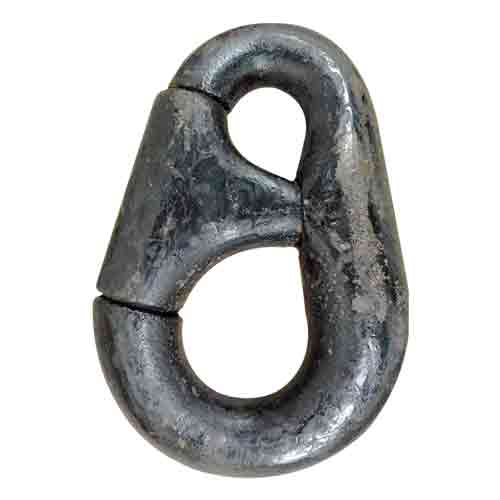 Material: CM490, CM690 Steel.
Processing: Drop Forged.
The center chock and taper pin for secure installation..
Finish: Black Painting, Galvanized, Original Color.
Application: Link common link of anchor chains with anchor shackles.
Packing: Gunny Bag, Ply wooden cases, Iron Box, or naked packing.
Bespoke sizes are available.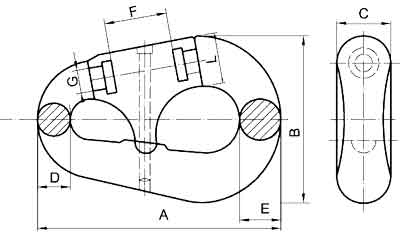 | Chain Size mm | A mm | B mm | C mm | D mm | E mm | F mm | G mm | H mm | J mm | K mm | WT kg/ea |
| --- | --- | --- | --- | --- | --- | --- | --- | --- | --- | --- | --- |
| 32~34 | 298 | 206 | 59 | 40 | 48 | 83 | 40x44 | 56 | 26 | 43 | 13 |
| 42~52 | 378 | 260 | 76 | 51 | 64 | 100 | 51x60 | 74 | 32 | 52 | 27 |
| 52~60 | 454 | 313 | 92 | 60 | 76 | 121 | 62x73 | 88 | 37 | 64 | 49 |
| 62~79 | 562 | 376 | 117 | 79 | 95 | 149 | 85x79 | 111 | 48 | 76 | 94 |
| 81~92 | 654 | 419 | 133 | 92 | 124 | 149 | 111x102 | 130 | 54 | 79 | 149 |
| 94~95 | 692 | 435 | 146 | 98 | 130 | 159 | 124x137 | 141 | 57 | 83 | 236 |
| 97~102 | 889 | 571 | 190 | 121 | 165 | 190 | 130x133 | 181 | 73 | 108 | 386 |
Hits: 171