Stainless Steel Long Link Chains|DIN763/DIN5685 chains
Stainless Steel Long Link Chains are made according to DIN763/DIN5685 chains standard. It's processed by flash butt welding. SS316 long link chain is a popular use for mooring & yachting due to its maximum corrosion resistance. The chains can be connected with split connecting or quick links easily. Short/Medium link chains are also available.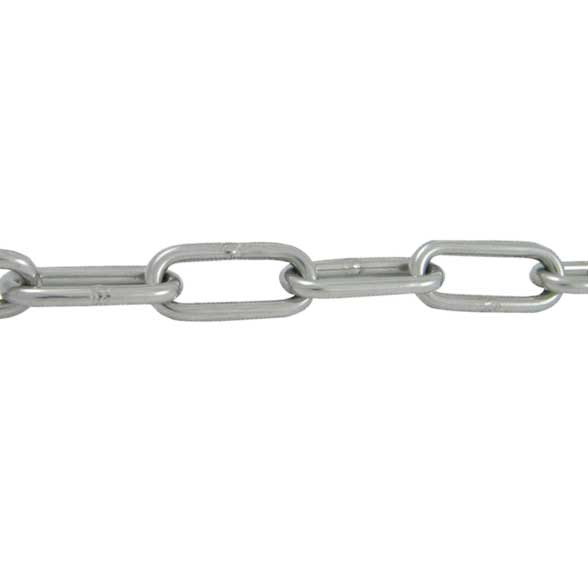 Material: Stainless Steel 316, 304 Solid bar.
Finish: Highly Polished.
Features: AISI316 Stainless steel is marine grade due to its good performance of corrosion resistance.
Flash Butt Welding Processing.
Long Pitch Design.
Grade: G70, G43, G40, G30. 
Bespoke sizes are available.
Applications: mooring, lashing, and etc.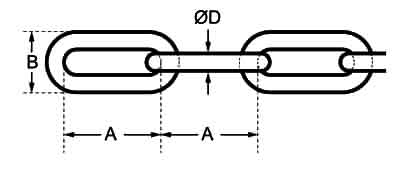 | Item | ØD mm | A mm | B mm | SWL mm |
| --- | --- | --- | --- | --- |
| 1.5mm Chain | 1.5 | 12 | 6 | 15 |
| 2mm Chain | 2 | 22 | 8 | 20 |
| 3mm Chain | 3 | 26 | 12 | 58 |
| 4mm Chain | 4 | 32 | 16 | 105 |
| 5mm Chain | 5 | 35 | 20 | 166 |
| 6mm Chain | 6 | 42 | 24 | 208 |
| 8mm Chain | 8 | 52 | 32 | 416 |
| 10mm Chain | 10 | 65 | 40 | 666 |
| 13mm Chain | 13 | 82 | 52 | 1050 |
| 16mm Chain | 16 | 100 | 64 | 2400 |
Hits: 12