Swageless Fork|Self Assembly Fork/Jaw/Clevis Terminal/Fittings
Swageless Fork Terminals/Fittings is swageless tensioner, also called Self Assembly Fork/Jaw/Clevis Terminal/Fittings. It's made of AISI316 stainless steel for corrosion resistance. Swaged fittings are high tensile terminal for architectural, structural, marine tensioning applications. It can be assembled quickly and easily by hand without pressing tools.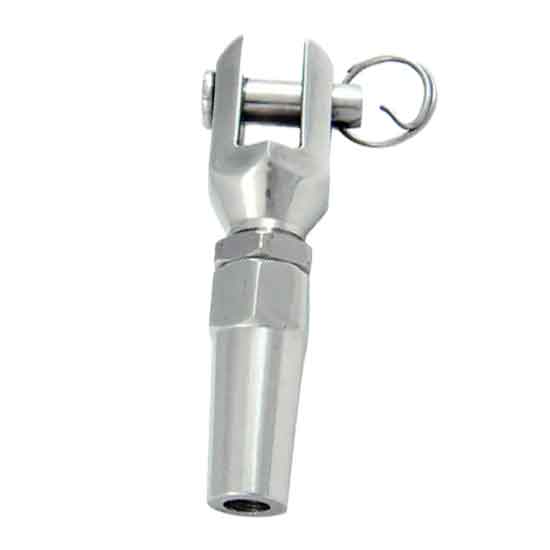 Material: Stainless Steel 316, 304 Solid bar.
Finish: Highly Polished.
Features: AISI316 Stainless steel is marine grade due to its good performance of corrosion resistance.
Self-assembled by hand using spanners.
Fit for 1×19, 7X19, 7X7 Strand, and compacted strand Metric and inch wire rope (IWRC).
Bespoke sizes are available.
Applications: yacht rigging, mast stays, fabric structures, cable bracing, architectural, structural tensioning and display applications, and etc.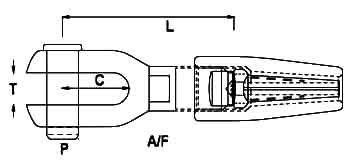 Swageless fork for 1X19 wire rope specifications:
| Item | Wire mm | P mm | C mm | T mm | L mm | A/F mm |
| --- | --- | --- | --- | --- | --- | --- |
| 3mm, 1x19 Strand | 3 | 6 | 13 | 6.3 | 30 | 9.5 |
| 4mm, 1x19 Strand | 4 | 8 | 16 | 8 | 40 | 11 |
| 5mm, 1x19 Strand | 5 | 9.5 | 19 | 10 | 47 | 14 |
| 6mm, 1x19 Strand | 6 | 11 | 22 | 11 | 50 | 19 |
| 7mm, 1x19 Strand | 7 | 12 | 25 | 12.7 | 58 | 20 |
| 8mm, 1x19 Strand | 8 | 12 | 25 | 12.7 | 63 | 22 |
| 8mm, 1x19 Strand | 8 | 14 | 28 | 14 | 70 | 22 |
| 8mm, 1x19 Strand | 8 | 16 | 32 | 16 | 72 | 26 |
| 10mm, 1x19 Strand | 10 | 16 | 32 | 16 | 78 | 26 |
| 12mm, 1x19 Strand | 12 | 19 | 38 | 19 | 93 | 32 |
| 14mm, 1x19 Strand | 14 | 22 | 45 | 22.2 | 106 | 36 |
| 16mm, 1x19 Strand | 16 | 25.4 | 50 | 25.4 | 126 | 40 |
| 19mm, 1x19 Strand | 19 | 28 | 58 | 28.6 | 133 | 44 |
| 22mm, 1x19 Strand | 22 | 32 | 64 | 32 | 146 | 52 |
| 26mm, 1x19 Strand | 26 | 35 | 70 | 35 | 167 | 64 |
Swageless fork for 7X7, 7X19 wire rope specifications:
| Item | Wire mm | P mm | C mm | T mm | L mm | A/F mm |
| --- | --- | --- | --- | --- | --- | --- |
| 3mm, 7 Strand | 3 | 6 | 13 | 6.3 | 30 | 9.5 |
| 4mm, 7 Strand | 4 | 8 | 16 | 8 | 40 | 11 |
| 5mm, 7 Strand | 5 | 9.5 | 19 | 10 | 47 | 14 |
| 6mm, 7 Strand | 6 | 11 | 22 | 11 | 50 | 19 |
| 7mm, 7 Strand | 7 | 12 | 25 | 12.7 | 58 | 20 |
| 8mm, 7 Strand | 8 | 12 | 25 | 12.7 | 63 | 22 |
| 8mm, 7 Strand | 8 | 14 | 28 | 14 | 70 | 22 |
| 8mm, 7 Strand | 8 | 16 | 32 | 16 | 72 | 26 |
| 10mm, 7 Strand | 10 | 16 | 32 | 16 | 78 | 26 |
| 12mm, 7 Strand | 12 | 19 | 38 | 19 | 93 | 32 |
| 14mm, 7 Strand | 14 | 22 | 45 | 22.2 | 106 | 36 |
| 16mm, 7 Strand | 16 | 25.4 | 50 | 25.4 | 126 | 40 |
| 19mm, 7 Strand | 19 | 28 | 58 | 28.6 | 133 | 44 |
| 22mm, 7 Strand | 22 | 32 | 64 | 32 | 146 | 52 |
| 26mm, 7 Strand | 26 | 35 | 70 | 35 | 167 | 64 |
Hits: 35