Swageless Eye Terminals|Self Assembly Eye Terminals SS316
Swageless Eye Terminals are made of 316 grade stainless steel. It's easier to use than swage terminals. Swageless eye terminates the wire ropes with spanners & without hydraulic presses or swaging machines. The swageless eye also has a high performance of corrosion resistance in harsh marine conditions. Bespoke sizes of swageless eyes are available.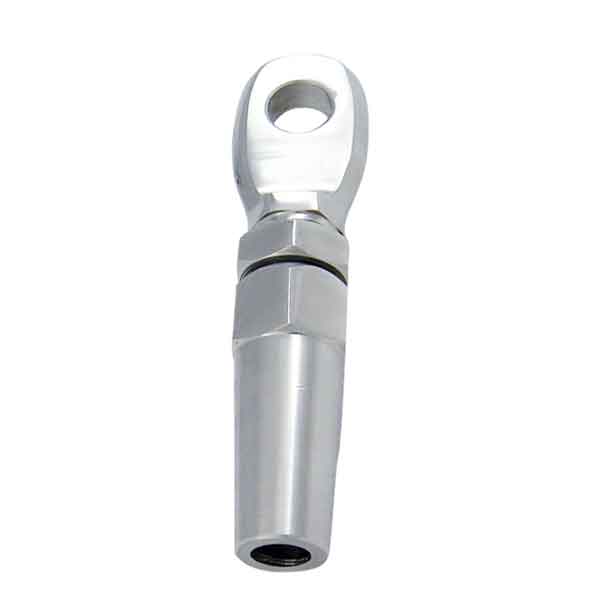 Material: Stainless Steel 316, 304 Solid bar.
Finish: Highly Polished.
Features: AISI316 Stainless steel is marine grade due to its good performance of corrosion resistance.
Self-assembled by hand using spanners.
Fit for 1×19, 7X19,7X7 Strand, and compacted strand Metric and inch wire rope (IWRC).
Bespoke sizes available.
Applications: Sails boats, yacht rigging, masts, spreaders, architectural, Structural systems, cable railing, balustrade, and etc.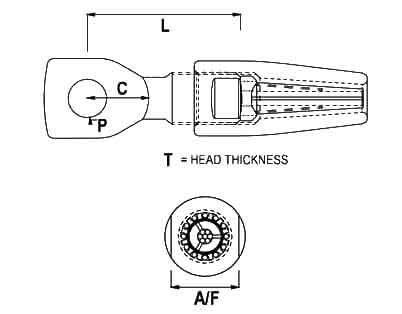 Swageless Eye for 1X19 Strands Wire Rope:
| Item | Wire mm | P mm | C mm | T mm | L mm | A/F mm |
| --- | --- | --- | --- | --- | --- | --- |
| 3mm, 1x19 Strand | 3 | 6 | 13 | 6.3 | 30 | 9.5 |
| 4mm, 1x19 Strand | 4 | 8 | 16 | 8 | 40 | 11 |
| 5mm, 1x19 Strand | 5 | 9.5 | 19 | 10 | 47 | 14 |
| 6mm, 1x19 Strand | 6 | 11 | 22 | 11 | 50 | 19 |
| 7mm, 1x19 Strand | 7 | 12 | 25 | 12.7 | 58 | 20 |
| 8mm, 1x19 Strand | 8 | 12 | 25 | 12.7 | 63 | 22 |
| 8mm, 1x19 Strand | 8 | 14 | 28 | 14 | 70 | 22 |
| 8mm, 1x19 Strand | 8 | 16 | 32 | 16 | 72 | 26 |
| 10mm, 1x19 Strand | 10 | 16 | 32 | 16 | 78 | 26 |
| 12mm, 1x19 Strand | 12 | 19 | 38 | 19 | 93 | 32 |
| 14mm, 1x19 Strand | 14 | 22 | 45 | 22.2 | 106 | 36 |
| 16mm, 1x19 Strand | 16 | 25.4 | 50 | 25.4 | 126 | 40 |
| 19mm, 1x19 Strand | 19 | 28 | 58 | 28.6 | 133 | 44 |
| 22mm, 1x19 Strand | 22 | 32 | 64 | 32 | 146 | 52 |
| 26mm, 1x19 Strand | 26 | 35 | 70 | 35 | 167 | 64 |
Swageless Eye for 7X7, 7X19 Strands Wire Rope:
| Item | Wire mm | P mm | C mm | T mm | L mm | A/F mm |
| --- | --- | --- | --- | --- | --- | --- |
| 3mm, 7 Strand | 3 | 6 | 13 | 6.3 | 30 | 9.5 |
| 4mm, 7 Strand | 4 | 8 | 16 | 8 | 40 | 11 |
| 5mm, 7 Strand | 5 | 9.5 | 19 | 10 | 47 | 14 |
| 6mm, 7 Strand | 6 | 11 | 22 | 11 | 50 | 19 |
| 7mm, 7 Strand | 7 | 12 | 25 | 12.7 | 58 | 20 |
| 8mm, 7 Strand | 8 | 12 | 25 | 12.7 | 63 | 22 |
| 8mm, 7 Strand | 8 | 14 | 28 | 14 | 70 | 22 |
| 8mm , 7 Strand | 8 | 16 | 32 | 16 | 72 | 26 |
| 10mm, 7 Strand | 10 | 16 | 32 | 16 | 78 | 26 |
| 12mm, 7 Strand | 12 | 19 | 38 | 19 | 93 | 32 |
| 14mm, 7 Strand | 14 | 22 | 45 | 22.2 | 106 | 36 |
| 16mm, 7 Strand | 16 | 25.4 | 50 | 25.4 | 126 | 40 |
| 19mm, 7 Strand | 19 | 28 | 58 | 28.6 | 133 | 44 |
| 22mm, 7 Strand | 22 | 32 | 64 | 32 | 146 | 52 |
| 26mm, 7 Strand | 26 | 35 | 70 | 35 | 167 | 64 |
Hits: 30