Threaded Fork Terminal|Jaw Terminal Threaded|Clevis Fork
Threaded Fork Terminal is also called Jaw Terminal Threaded, Clevis Fork. The threaded terminals are made from 316 grade stainless steel solid bar. The fork terminals are machined with the external thread of right-hand thread and left-hand thread. Both machined & welded threaded fork are available. The Jaw terminal is used for cable rail, trellis, balustrade, and etc.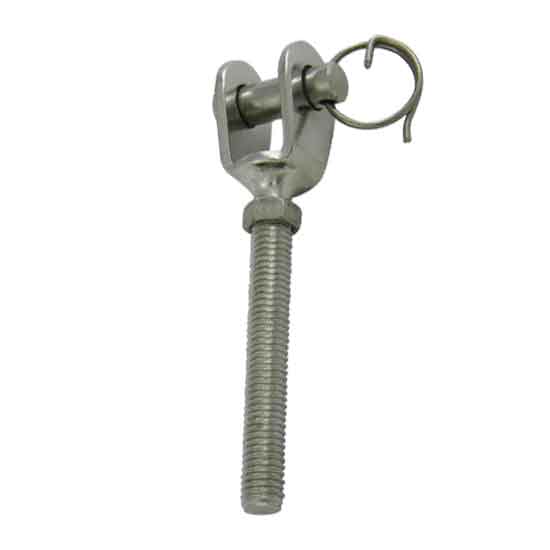 Material: Stainless Steel 316, 304 Solid bar.
Finish: Polished.
Features: AISI316 Stainless steel is marine grade due to its good performance of corrosion resistance.
Supplied with a split ring.
Available with left-handed and right-handed threads
Sizes: M5 to M20.
Applications: Sails boats, yacht rigging, masts, spreaders, architectural, Structural systems, cable railing, balustrade, and etc.

| D1 | L1 mm | L2 mm | A mm | D mm | H mm |
| --- | --- | --- | --- | --- | --- |
| M5 | 65 | 42 | 6.5 | 5 | 10 |
| M6 | 72 | 48 | 7.5 | 6 | 10 |
| M8 | 86 | 56 | 11 | 8 | 11 |
| M10 | 96 | 63 | 12 | 9 | 14 |
| M12 | 112 | 80 | 14 | 12 | 20 |
Hits: 8