Bow Shackle with Screw Pin|Chain/Anchor Shackles
Bow Shackle with Screw Pin is also called screw pin chain shackles, anchor shackles, which is made from forged carbon steel shackle body & alloy steel pin. It's quenched & tempered, hot-dip galvanized for the max strength and corrosion resistance. The shackles are used in marine, lifting, towing, fishing, tie-down, agriculture. Sizes from 1/3 ton to 55 ton and can bespoke.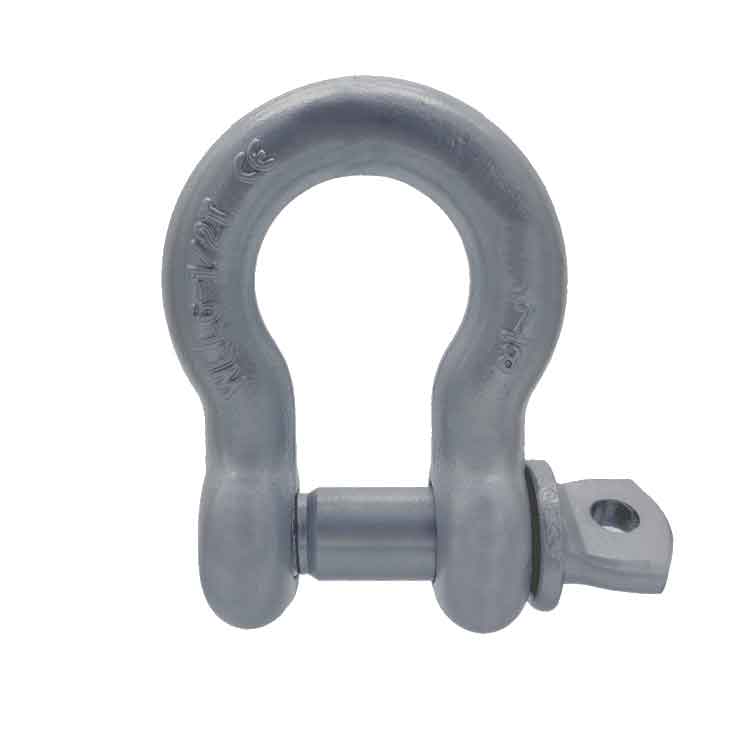 Material: Alloy Steel Pins & Carbon Steel Body.
Nominal Sizes: 3/16″ to 2-1/2″.
Heat Treatment: Quenched &Tempered.
Fatigue rated: 1/3-55 Ton.
Applications: Lifting, Cable Tension, Mooring, Pull testing.
Approved for use at -40 degree C (-40 degree F) to 204 degrees C (400 degrees F)
Meets or exceeds all requirements of ASME B30.26.
Finish: Hot Dip galvanized or Self Colored.
Breaking Load: 6 times Working load.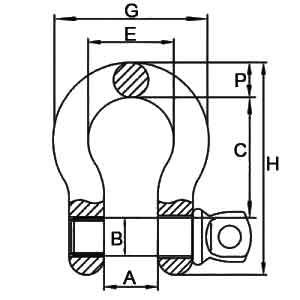 | Size (in.)  | WLL (t) | Weight (lbs) | A in | B in | C in | E in | G in | H in | P in | Tolerance C in +/- | Tolerance A in +/- |
| --- | --- | --- | --- | --- | --- | --- | --- | --- | --- | --- | --- |
|  3/16 |  1/3 | 0.06 | 0.38 | 0.25 | 0.88 | 0.6 | 0.98 | 1.47 | 0.19 | 0.06 | 0.06 |
|  1/4 |  1/2 | 0.1 | 0.47 | 0.31 | 1.13 | 0.78 | 1.28 | 1.84 | 0.25 | 0.06 | 0.06 |
|  5/16 |  3/4 | 0.19 | 0.53 | 0.38 | 1.22 | 0.84 | 1.47 | 2.09 | 0.31 | 0.06 | 0.06 |
|  3/8 | 1 | 0.31 | 0.66 | 0.44 | 1.44 | 1.03 | 1.78 | 2.49 | 0.38 | 0.13 | 0.06 |
|  7/16 |  1-1/2 | 0.38 | 0.75 | 0.5 | 1.69 | 1.16 | 2.03 | 2.91 | 0.44 | 0.13 | 0.06 |
|  1/2 | 2 | 0.72 | 0.81 | 0.63 | 1.88 | 1.31 | 2.31 | 3.28 | 0.5 | 0.13 | 0.06 |
|  5/8 |  3-1/4 | 1.37 | 1.06 | 0.75 | 2.38 | 1.69 | 2.94 | 4.19 | 0.69 | 0.13 | 0.06 |
|  3/4 |  4-3/4 | 2.35 | 1.25 | 0.88 | 2.81 | 2 | 3.5 | 4.97 | 0.81 | 0.25 | 0.06 |
|  7/8 |  6-1/2 | 3.62 | 1.44 | 1 | 3.31 | 2.28 | 4.03 | 5.83 | 0.97 | 0.25 | 0.06 |
| 1 |  8-1/2 | 5.03 | 1.69 | 1.13 | 3.75 | 2.69 | 4.69 | 6.56 | 1.06 | 0.25 | 0.06 |
|  1-1/8 |  9-1/2 | 7.41 | 1.81 | 1.25 | 4.25 | 2.91 | 5.16 | 7.47 | 1.25 | 0.25 | 0.06 |
|  1/1/4 | 12 | 9.5 | 2.03 | 1.38 | 4.69 | 3.25 | 5.75 | 8.25 | 1.38 | 0.25 | 0.06 |
|  1-3/8 |  13-1/2 | 13.53 | 2.25 | 1.5 | 5.25 | 3.63 | 6.38 | 9.16 | 1.5 | 0.25 | 0.13 |
|  1-1/2 | 17 | 17.2 | 2.38 | 1.63 | 5.75 | 3.88 | 6.88 | 10 | 1.62 | 0.25 | 0.13 |
|  1-3/4 | 25 | 27.78 | 2.88 | 2 | 7 | 5 | 8.86 | 12.34 | 2.25 | 0.25 | 0.13 |
| 2 | 35 | 45 | 3.25 | 2.25 | 7.75 | 5.75 | 9.97 | 13.68 | 2.4 | 0.25 | 0.13 |
|  2-1/2 | 55 | 85.75 | 4.13 | 2.75 | 10.5 | 7.25 | 12.87 | 17.84 | 3.13 | 0.25 | 0.25 |
Hits: 7