D Shackle With Hexagon Socket Pin/No Snag Pin Stainless Steel
D Shackle With Hexagon Socket Pin is also known as D shackles with a no-snag pin. It's forged from 316-grade stainless steel solid bar for maximum corrosion resistance. The socket head pin design makes the shackles that will not snag on lines, clothing, deck fittings, or other things. It can tighten or loosen with an Allen wrench or a slotted screwdriver.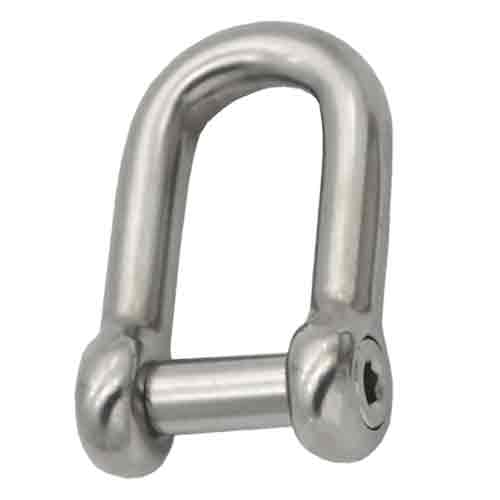 Material: Stainless Steel 316, 304 Solid bar.
Finish: Highly Polished.
Process: Forged.
Features: AISI316 Stainless steel is marine grade due to its good performance of corrosion resistance.
Requires a hex head key to tighten and loosen, ideal for tamper-free environments.
Standard: European Standard, US Federal Specifications Standard.
Packing: Carton with pallet.
Bespoke sizes are available.
Applications: Lifting, Marine.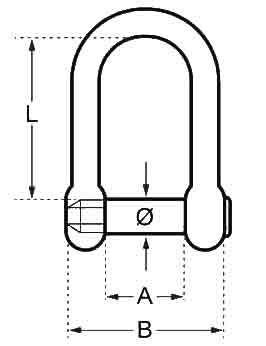 | Item | Ø mm | A mm | B mm | L mm |
| --- | --- | --- | --- | --- |
| 5mm D Shackle | 5 | 10 | 20 | 16.5 |
| 6mm D Shackle | 6 | 12 | 24 | 18 |
| 8mm D Shackle | 8 | 16 | 32 | 28 |
| 10mm D Shackle | 10 | 20 | 40 | 35 |
| 12mm D Shackle | 12 | 24 | 48 | 45 |
| 14mm D Shackle | 14 | 28 | 56 | 49 |
| 16mm D Shackle | 16 | 32 | 64 | 52 |
Hits: 55