Flemish Eye Sleeves|Swaging Sleeves S-505|Turnback Ferrules
Flemish Eye Sleeves are also called turnback sleeves, grommet sleeves, S-505 Swaging Sleeve. It's made of carbon steel for wire rope splicing systems. The swage ferrules are fit for wire rope of IPS, XIP, EIP, FC, RRL, IWRC. The surface finish will be black oxidized for corrosion resistance. The sleeves are swaged to form the loop of wire rope terminations.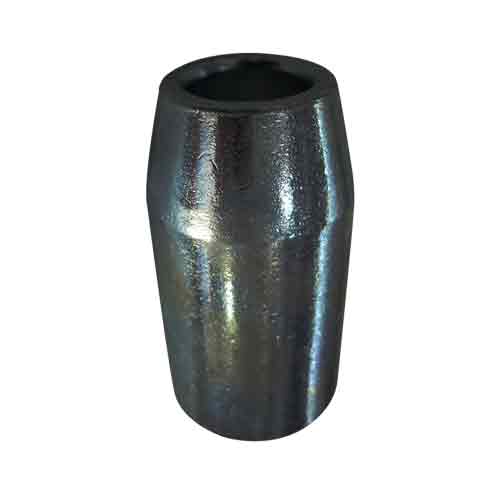 Material: High Quality Carbon Steel.
Processing: Machining & Extruded.
Features: The sleeves can be used in low temperature toughness environments and will not crack during the swaging which equals or exceeds stainless steel sleeves.
Sizes: 1/4″-6″.Bespoke sizes are available.
Certificates: ISO9001, CE, BV, SGS.
Finish: Black oxidized.
Packing: Carton with pallet, or as per requests.
Applications: For Flemish eye wire rope splicing lifting, sails boats & yachts, and etc.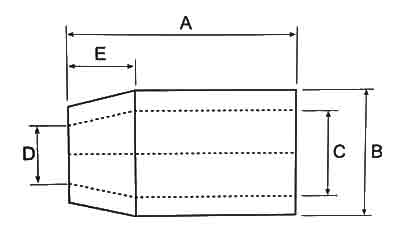 | Rope Size (inch) | A (inch) | B (inch) | D (inch) | E (inch) | C (inch) | Max. after Swage Dimensions(inch) | kgs/100ea |
| --- | --- | --- | --- | --- | --- | --- | --- |
| 1/4″ | 1 | 0.66 | 0.31 | 0.28 | 0.47 | 0.57 | 2.27 |
| 5/16″ | 1.5 | 0.91 | 0.38 | 0.44 | 0.62 | 0.75 | 6.36 |
| 3/8″ | 1.5 | 0.91 | 0.47 | 0.39 | 0.66 | 0.75 | 6.36 |
| 7/16″ | 2 | 1.22 | 0.53 | 0.65 | 0.85 | 1.01 | 15 |
| 1/2″ | 2 | 1.22 | 0.63 | 0.56 | 0.91 | 1.01 | 13 |
| 9/16″ | 2.75 | 1.47 | 0.7 | 0.63 | 1.03 | 1.24 | 29 |
| 5/8″ | 2.75 | 1.47 | 0.75 | 0.63 | 1.09 | 1.24 | 26 |
| 3/4″ | 3.19 | 1.72 | 0.91 | 0.84 | 1.28 | 1.46 | 40 |
| 7/8″ | 3.56 | 2.03 | 1.03 | 1 | 1.53 | 1.68 | 60 |
| 1″ | 4 | 2.28 | 1.16 | 1.13 | 1.72 | 1.93 | 89 |
| 1 1/8″ | 4.8 | 2.5 | 1.28 | 1.25 | 1.94 | 2.13 | 118 |
| 1 1/4″ | 5.19 | 2.78 | 1.44 | 1.41 | 2.16 | 2.32 | 161 |
| 1 3/8″ | 5.81 | 3 | 1.56 | 1.56 | 2.38 | 2.52 | 192 |
| 1 1/2″ | 6.25 | 3.25 | 1.69 | 1.69 | 2.63 | 2.71 | 227 |
| 1 3/4″ | 7.25 | 3.84 | 1.94 | 1.97 | 3.13 | 3.1 | 366 |
| 2″ | 8.5 | 4.38 | 2.25 | 2.25 | 3.63 | 3.56 | 514 |
| 2 1/4″ | 9.56 | 5.03 | 2.5 | 2.53 | 4.03 | 4.12 | 879 |
| 2 1/2″ | 10.5 | 5.5 | 2.75 | 2.81 | 4.5 | 4.5 | 1068 |
| 2 3/4″ | 11.5 | 5.75 | 3 | 3.09 | 4.75 | 4.7 | 1271 |
| 3″ | 12 | 6 | 3.25 | 3.38 | 5 | 4.96 | 1335 |
| 3 1/4″ | 13 | 6.5 | 3.86 | 3.54 | 5.43 | 5.37 | 1650 |
| 3 1/2″ | 14 | 7 | 3.88 | 3.94 | 5.84 | 5.77 | 2106 |
| 3 3/4″ | 15 | 7.5 | 4.06 | 4.25 | 6.31 | 6.23 | 2497 |
| 4″ | 16 | 8.13 | 4.38 | 4.5 | 6.81 | 6.69 | 3087 |
| 4 1/2″ | 18 | 9.13 | 4.88 | 5.06 | 7.66 | 7.45 | 4540 |
| 5″ | 20 | 10.52 | 5.5 | 5.63 | 8.73 | 8.28 | 6600 |
| 6″ | 24 | 12.54 | 6.5 | 6.75 | 10.2 | 9.93 | 12300 |