Jaw Swivel Snap Shackle|Snap Shackle with Swivel Fork & Clevis Pin
Jaw Swivel Snap Shackle is a snap shackle with a swivel fork & clevis pin. The fork/jaw swivel makes shackles free rotation and the captive plunger pin design makes it can't be detached. The snap shackle is made from A4-AISI 316 Grade Stainless Steel, which has maximum corrosion resistance & high tensile working strength. It's an ideal choice for lanyards.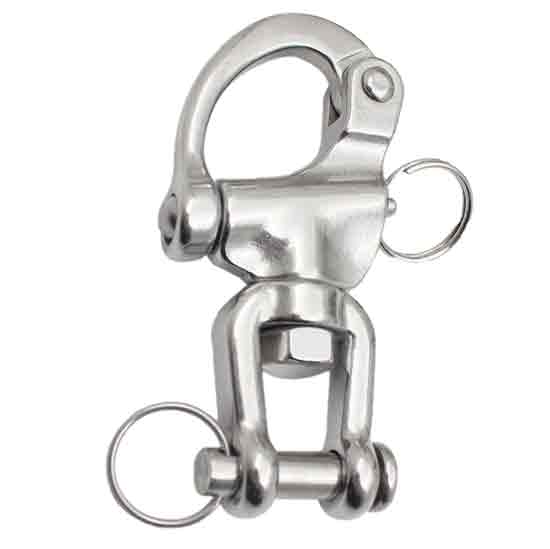 Material: Stainless Steel 316, 304 Solid bar.
Finish: Highly Polished.
Process: Precision casting.
Features: AISI316 Stainless steel is marine grade due to its good performance of corrosion resistance.
Swivel Eye Design for Free rotation.
The plunger pin is set captive into the hook and cannot become detached.
Excellent working and breaking loads.
Easy to open by pulling the plunger pin (possiblity to attach a lanyard).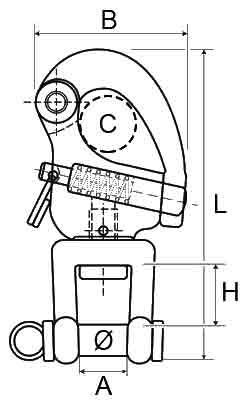 | Item | L (mm) | B (mm) | A (mm) | H (mm) | C (mm) | Pin Ø (mm) | Break Load (kg) |
| --- | --- | --- | --- | --- | --- | --- | --- |
| 12mm Swivel Fork | 70 | 33 | 12 | 9 | 12 | 5 | 380 |
| 16mm Swivel Fork | 87 | 42 | 13 | 15 | 16 | 8 | 550 |
| 22mm Swivel Fork | 128 | 58 | 22 | 20 | 22 | 10 | 1010 |
Hits: 17