Swivel Snap Shackle|Swivel Eye Snap Shackle|Wichard Snap Shackles
Swivel Snap Shackle is also called Wichard Snap Shackles, Spinnaker Halyard Shackle, Tylaska Halyard Shackle, Swivel Eye Snap Shackle. The snap shackles are designed with a quick-release plunger for easy opening and locking. The Swivel eye design will make the shackles free rotation to prevent the halyard & ropes from twisting & getting kinked.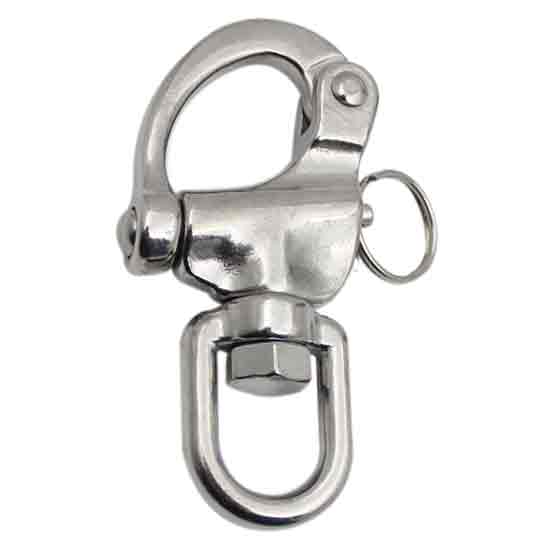 Material: Stainless Steel 316, 304 Solid bar.
Finish: Highly Polished.
Process: Precision casting.
Features: AISI316 Stainless steel is marine grade due to its good performance of corrosion resistance.
Free Rotation with 360-degree.
Captive plunger pin for easy opening & locking.
Standard: European Standard, US Federal Specifications Standard.
Packing: Carton with pallet.
Bespoke sizes are available.
Applications: halyards, tethers etc.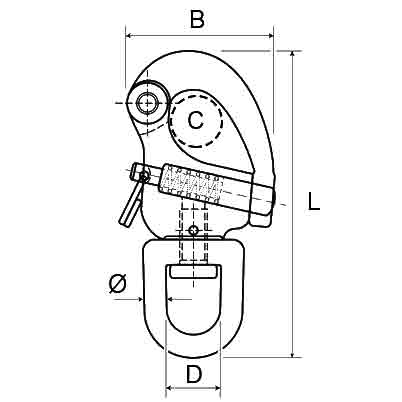 | Item | L (mm) | B (mm) | Ø (mm) | C (mm) | D (mm) | Break Load (Kg) |
| --- | --- | --- | --- | --- | --- | --- |
| 12mm Swivel Eye | 70 | 33 | 5 | 12 | 12 | 380 |
| 16mm Swivel Eye | 87 | 42 | 6 | 16 | 16 | 550 |
| 22mm Swivel Eye | 128 | 58 | 8 | 22 | 22 | 960 |
Hits: 11