Eye & Jaw Swivel|Eye and Jaw/Eye to Jaw/Mooring Swivels
Eye & Jaw Swivel is made from stainless steel for corrosion resistance. It's also called eye to jaw swivels, Jaw and Eye Swivel, Fork & Eye Swivel, Clevis & Eye Swivel. The swivels are used as mooring swivel. The swivel design will allow the mooring lines of two ends to rotate at 360-degree freely. The clevis pin can be easily for opening & locking.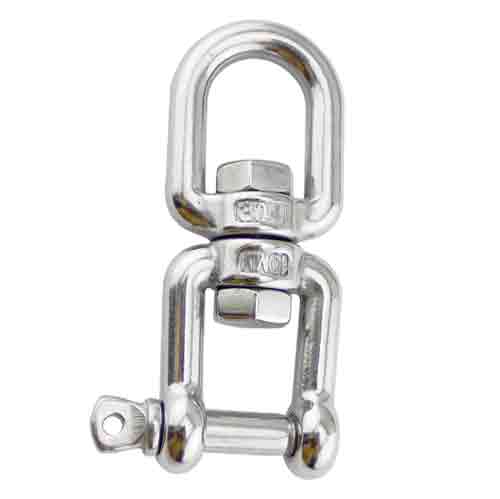 Material: Stainless Steel 316, 304 Solid bar.
Finish: Highly Polished.
Process: Precision casting.
Features: AISI316 Stainless steel is marine grade due to its good performance of corrosion resistance.
Swivel for Free Rotation with 360-degree.
Screw pin for easy opening & locking.
Standard: European Standard, US Federal Specifications Standard.
Packing: Carton with pallet.
Bespoke sizes are available.
Applications: Mooring.
Eye & Jaw Swivel Specifications: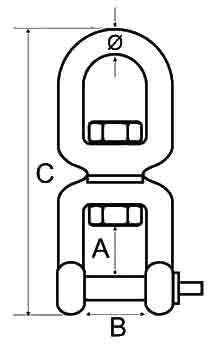 | Item | Ø mm | A mm | B mm | C mm |
| --- | --- | --- | --- | --- |
| 6mm Jaw - Eye Swivel | 6 | 11 | 12 | 66 |
| 8mm Jaw - Eye Swivel | 8 | 16 | 16 | 94 |
| 10mm Jaw - Eye Swivel | 10 | 22 | 22 | 118 |
| 13mm Jaw - Eye Swivel | 13 | 28 | 28 | 152 |
| 16mm Jaw - Eye Swivel | 16 | 37 | 34 | 188 |
| 19mm Jaw - Eye Swivel | 19 | 45 | 38 | 229 |
Hits: 16