Grade 8 Forged Round Ring|S-643 Round Rings|G80 Lifting Ring
Grade 8 Forged Round Ring is also called G-643 Round Ring, G80 Lifting Ring, which is forged from alloy steel. The weldless rings are quenched and tempered for high strength. Besides round links, oblong/pear/delta links are also available. The rings are taken proof tests individually and breakage tests and fatigue tests for each batch. Sizes range from 0.5T to 15.9T.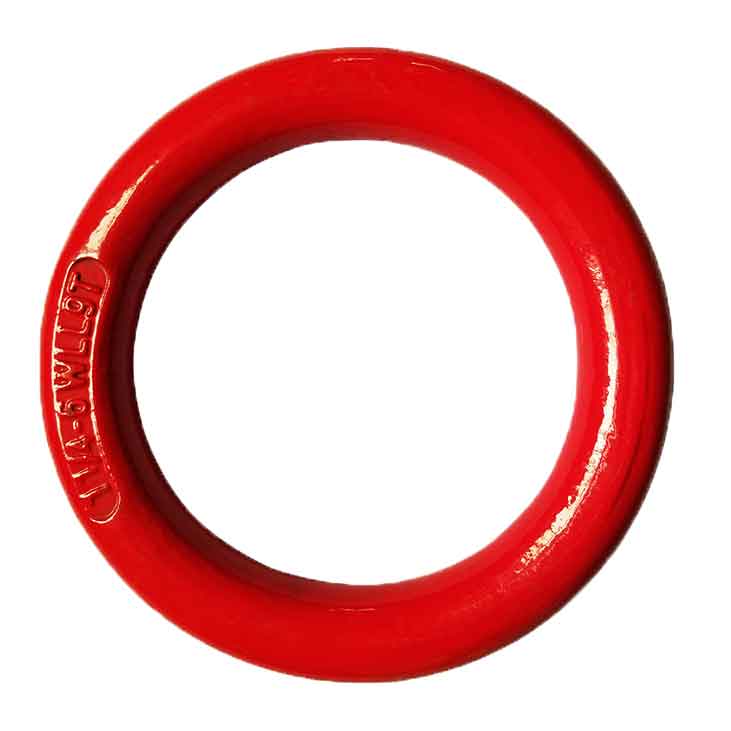 Material: High tensile Alloy steel.
Processing: Forged, Quenched & Tempered.
Proof Loading: 2 times Working Load Limit.
Ultimate Load: 6 times Working Load Limit.
QC: Magnetic Powder Flaw Detection, Breakage test and fatigue test.
Finish: Red or Yellow Coated.
Application: For G80/G8 Single leg or 2 leg chain slings.
Flattened upon required.
Packing: Plywood cases.
Bespoke sizes are available.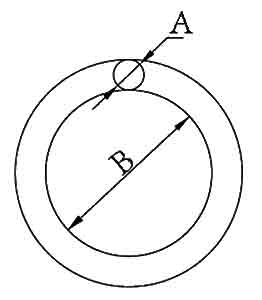 | Weight (kg) | Woring Load Limit (t) | Breaking Load (t) | A (mm) | B (mm) |
| --- | --- | --- | --- | --- |
| 0.11 | 0.5 | 3 | 10 | 50 |
| 0.21 | 1 | 6 | 13 | 50 |
| 0.46 | 1.5 | 9 | 16 | 76 |
| 0.5 | 1.5 | 9 | 16 | 84 |
| 0.67 | 2.3 | 13.8 | 19 | 76 |
| 0.84 | 2.5 | 15 | 19 | 102 |
| 1.2 | 3.3 | 19.8 | 22 | 102 |
| 1.55 | 2.5 | 15 | 22 | 140 |
| 1.59 | 4.9 | 29.4 | 25 | 102 |
| 2.1 | 4.9 | 29.4 | 25 | 140 |
| 2.87 | 4.7 | 28.2 | 28 | 152 |
| 3.1 | 7.7 | 46.2 | 32 | 127 |
| 3.6 | 7.7 | 46.2 | 32 | 152 |
| 5.6 | 7.7 | 46.2 | 32 | 254 |
| 4.5 | 8.6 | 51.6 | 35 | 152 |
| 6.8 | 11.3 | 67.8 | 38 | 203 |
| 7.32 | 11.3 | 67.8 | 38 | 222 |
| 8.22 | 11.3 | 67.8 | 38 | 254 |
| 17.8 | 15.9 | 95.4 | 38 | 305 |
Hits: 134