Grade 8 Master Link EN1677-4|Forged G80 Master Links
Grade 8 Master Link is made from high tensile alloy steel according to EN1677-4. The forged G80 master links are forged for all sizes for the maximum working load. It will be fit for single and double leg EN818-4 Grade 8 chain slings. The master links have a much bigger width design for a bigger crane hook. Sizes from 3.2T to 65T and bespoke sizes are available.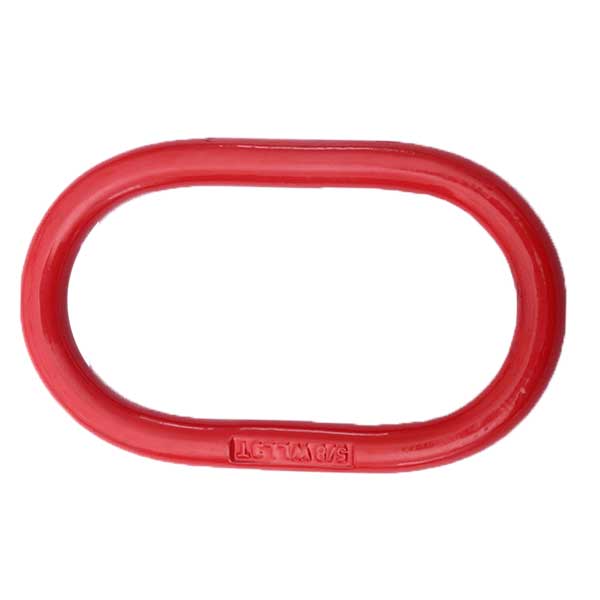 Material: High tensile Alloy steel.
Processing: Forged, Quenched & Tempered.
Proof Loading: 2 times Working Load Limit.
QC: Magnetic Powder Flaw Detection, Breakage test and fatigue test.
Finish: Red or Yellow Coated.
Application: For G80/G8 Single leg or 2 leg chain slings.
Flattened upon required.
Packing: Plywood cases.
Bespoke sizes are available.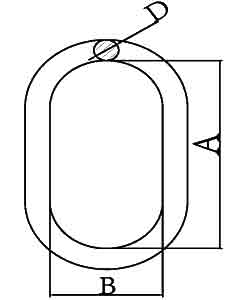 | WT KG/ea | WLL (T) | A mm | B mm | D mm |
| --- | --- | --- | --- | --- |
| 0.86 | 3.2 | 190 | 100 | 16 |
| 3.53 | 6.4 | 300 | 210 | 25 |
| 1.83 | 7 | 210 | 110 | 22 |
| 5.94 | 11 | 300 | 210 | 32 |
| 3.8 | 11.5 | 270 | 140 | 28 |
| 3.06 | 14.2 | 210 | 110 | 28 |
| 5.05 | 17 | 270 | 140 | 32 |
| 10. 78 | 19 | 420 | 220 | 38 |
| 7.29 | 28 | 270 | 140 | 38 |
| 17.06 | 27 | 470 | 250 | 45 |
| 17.65 | 45 | 380 | 200 | 50 |
| 28.85 | 65 | 430 | 220 | 60 |
Hits: 42