2-Leg Wire Rope Slings|Double Leg Bridle Wire Rope Slings
2 leg bridle sling is made of a Flemish eye which is spliced with the steel sleeve, the other end will be assembled with grab hook, eye hook, or shackles as per requirement. 2-leg wire rope slings is much more flexible than single leg slings. The rope constructions are 6X37+FC(1670MPa), 6X37+IWRC(1770MPa). Bespoke sizes are available.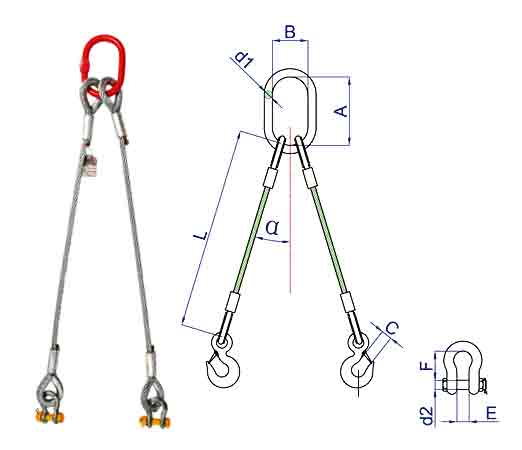 Standard: According to EN13411-1: 2003; EN13411-3: 2004; GB/T 16271-2009; GB/T14734-2009.
The specification of the wire rope in the form is 6 x37 +FC -1670Mpa.
This form with two status working load. The 0°-90°is the priority if the customers without any special requirement.
Different construction rope with different working load, we can calculate the working load according to the steel wire rope construction which the customer required.
Safety factor: Both ends of fittings with safety factor 5, master link & hook safety factor is 5, Shackles safety factor is 6.
The length of the wire rope according to the customer's request.
| Part No. | Rope Dia d (mm) | WLL(kn) 0-90° | WLL(kn) 90-120° | Master Link BXAXd1 (mm) | Hook Type(t) | Hook WLL(t) |
| --- | --- | --- | --- | --- | --- | --- |
| WSDH06 | 6 | 4.5 | 3.2 | 65×130×16 | (US)S6 | 0.75 |
| WSDH07 | 7 | 6.1 | 4.3 | 65×130×16 | (US)S6 | 0.75 |
| WSDH08 | 8 | 7.9 | 5.7 | 65×130×16 | (US)S6 | 0.75 |
| WSDH09 | 9 | 10 | 7.2 | 65×130×16 | (US)S6 | 0.75 |
| WSDH10 | 10 | 12 | 8.9 | 65×130×16 | (US)S6 | 1 |
| WSDH11 | 11 | 15 | 11 | 65×130×16 | (US)S6 | 1.5 |
| WSDH12 | 12 | 18 | 13 | 65×130×16 | (US)S6 | 1.5 |
| WSDH13 | 13 | 21 | 15 | 65×130×16 | (US)S6 | 1.5 |
| WSDH14 | 14 | 24 | 17 | 65×130×16 | (US)S6 | 2 |
| WSDH16 | 16 | 32 | 23 | 80×150×20 | (US)S6 | 3 |
| WSDH18 | 18 | 40 | 29 | 90×160×24 | (US)S6 | 3 |
| WSDH20 | 20 | 50 | 35 | 90×160×24 | (US)S6 | 5 |
| WSDH22 | 22 | 60 | 43 | 90×160×24 | (US)S6 | 5 |
| WSDH24 | 24 | 71 | 51 | 100×190×28 | (US)S6 | 7.5 |
| WSDH26 | 26 | 84 | 60 | 100×190×28 | (US)S6 | 7.5 |
| WSDH28 | 28 | 97 | 69 | 100×190×28 | (US)S6 | 7.5 |
| WSDH30 | 30 | 112 | 80 | 110×200×32 | (US)S6 | 10 |
| WSDH32 | 32 | 127 | 91 | 110×200×32 | (US)S6 | 10 |
| WSDH34 | 34 | 143 | 102 | 135×250×38 | (eye) | 15 |
| WSDH36 | 36 | 161 | 115 | 135×250×38 | (eye) | 15 |
| WSDH38 | 38 | 179 | 128 | 135×250×38 | (eye) | 15 |
| WSDH40 | 40 | 199 | 142 | 135×250×38 | (eye) | 15 |
| WSDH42 | 42 | 220 | 157 | 140×270×42 | (eye) | 37 |
| WSDH44 | 44 | 240 | 172 | 140×270×42 | (eye) | 37 |
| WSDH46 | 46 | 262 | 187 | 160×310×46 | (eye) | 37 |
| WSDH48 | 48 | 285 | 203 | 160×310×46 | (eye) | 37 |
| WSDH50 | 50 | 309 | 221 | 180×330×52 | (eye) | 37 |
| WSDH52 | 52 | 335 | 239 | 180×330×52 | (eye) | 37 |
| WSDH54 | 54 | 361 | 258 | 180×330×52 | (eye) | 37 |
| WSDH56 | 56 | 388 | 277 | 180×330×56 | (eye) | 37 |
| WSDH58 | 58 | 417 | 298 | 180×330×56 | (eye) | 37 |
| WSDH60 | 60 | 446 | 319 | 180×330×56 | (eye) | 37 |
Hits: 37