Single Leg Wire Rope Slings|Bridle Slings|1-Leg Lifting Slings
Single leg wire rope slings are made of wire rope & thimbles, hooks, shackles, ferrules, socket. There're vertical types, basket hitch types, choker hitch types to fit for different loading applications. Sling ends can be assembled with thimbles, hooks, shackles, open/closed swaged sockets, or braided loops as per requests.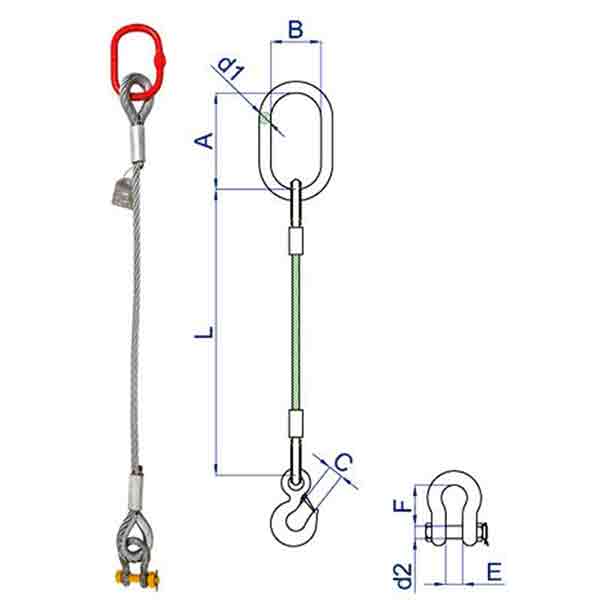 Standard: According to EN13411-1: 2003; EN13411-3: 2004; GB/T 16271-2009; GB/T14734-2009.
The information of Spliced Steel Wire Rope Sling is marked on the metal tag attached to the end of the steel wire rope.
Safety factor: Both ends of fittings with safety factor 5, master link & hook safety factor is 5, Shackles safety factor is 6.
Different constructions of the rope mean different working loads, we can calculate the working load according to the steel wire rope construction which the customer required.
The specification of the wire rope in the form is 6 x37 +FC -1670.
The length of the wire rope according to the customer's request.
| Part No. | Rope Dia d (mm) | WLL (kn) | Master Link BXAXd1(mm) | Hook Type(t) | Hook WLL(t) |
| --- | --- | --- | --- | --- | --- |
| WSSH06 | 6 | 3.2 | 65×130×16 | (US)S6 | 0.75 |
| WSSH07 | 7 | 4.3 | 65×130×16 | (US)S6 | 0.75 |
| WSSH08 | 8 | 5.7 | 65×130×16 | (US)S6 | 0.75 |
| WSSH09 | 9 | 7.2 | 65×130×16 | (US)S6 | 0.75 |
| WSSH10 | 10 | 8.9 | 65×130×16 | (US)S6 | 1 |
| WSSH11 | 11 | 11 | 65×130×16 | (US)S6 | 1.5 |
| WSSH12 | 12 | 13 | 65×130×16 | (US)S6 | 1.5 |
| WSSH13 | 13 | 15 | 65×130×16 | (US)S6 | 1.5 |
| WSSH14 | 14 | 17 | 65×130×16 | (US)S6 | 2 |
| WSSH16 | 16 | 23 | 80×150×20 | (US)S6 | 3 |
| WSSH18 | 18 | 29 | 80×150×20 | (US)S6 | 3 |
| WSSH20 | 20 | 35 | 90×160×24 | (US)S6 | 5 |
| WSSH22 | 22 | 43 | 90×160×24 | (US)S6 | 5 |
| WSSH24 | 24 | 51 | 90×160×24 | (US)S6 | 7.5 |
| WSSH26 | 26 | 60 | 100×190×28 | (US)S6 | 7.5 |
| WSSH28 | 28 | 69 | 100×190×28 | (US)S6 | 7.5 |
| WSSH30 | 30 | 80 | 100×190×28 | (US)S6 | 10 |
| WSSH32 | 32 | 91 | 110×200×32 | (US)S6 | 10 |
| WSSH34 | 34 | 102 | 110×200×32 | (eye) | 15 |
| WSSH36 | 36 | 115 | 120×230×34 | (eye) | 15 |
| WSSH38 | 38 | 128 | 135×250×38 | (eye) | 15 |
| WSSH40 | 40 | 142 | 135×250×38 | (eye) | 15 |
| WSSH42 | 42 | 157 | 140×270×42 | (eye) | 37 |
| WSSH44 | 44 | 172 | 140×270×42 | (eye) | 37 |
| WSSH46 | 46 | 187 | 140×270×42 | (eye) | 37 |
| WSSH48 | 48 | 203 | 140×270×42 | (eye) | 37 |
| WSSH50 | 50 | 221 | 160×310×46 | (eye) | 37 |
| WSSH52 | 52 | 239 | 160×310×46 | (eye) | 37 |
| WSSH54 | 54 | 258 | 180×330×52 | (eye) | 37 |
| WSSH56 | 56 | 277 | 180×330×52 | (eye) | 37 |
| WSSH58 | 58 | 298 | 180×330×52 | (eye) | 37 |
| WSSH60 | 60 | 319 | 180×330×56 | (eye) | 37 |
Hits: 77