Open Turnbuckle Body|Forged Frame Turnbuckle Body SS316
Forged Frame Turnbuckle Body is an Open Turnbuckle Body. It's used for cable length tensioning. Right hand & left-hand threads for each end. The turnbuckle body is made from AISI316 marine grade stainless steel for excellent corrosion resistance & durability. It will be fit for toggles, jaws, eyes, forks, hooks, studs, stubs, wall mounts for tensioning systems.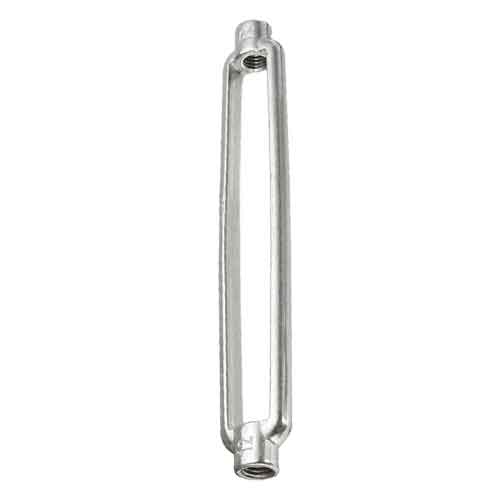 Material: Stainless Steel 316, 304 Solid bar.
Finish: Highly Polished.
Features: AISI316 Stainless steel is marine grade due to its good performance of corrosion resistance.
Metric Thread & UNF Thread.
Process: Forged. Casting turnbuckle is also available.
Bespoke sizes are available.
Applications: Extensively used in Yacht Rigging, Tensile Architecture, Balustrading and Membrane Structures.
| A | B | C | D | WLL (LB) | lb/ea |
| --- | --- | --- | --- | --- | --- |
| 1/4" | 4.00" | 4.75" | 0.72" | 500 | 0.15 |
| 5/16" | 4.50" | 5.50" | 0.82" | 800 | 0.25 |
| 3/8" | 6.00" | 7.13" | 0.97" | 1200 | 0.35 |
| 1/2" | 6.00" | 7.50" | 1.16" | 2200 | 0.55 |
| 5/8" | 6.00" | 7.81" | 1.38" | 3500 | 0.9 |
| 3/4" | 6.00" | 8.19" | 1.69" | 5200 | 1.15 |
| 1" | 6.00" | 9.00" | 2.31" | 8000 | 2.69 |
| 1" | 12.00" | 14.81" | 2.31" | 8000 | 4.17 |
| 1-1/4" | 12.00" | 15.13" | 2.62" | 12500 | 5.9 |
| 1-1/2" | 12.00" | 15.81" | 3.20" | 17000 | 9.57 |
Hits: 2