Closed Turnbuckle Body|Rigging Screw Body|Bottle Screws
Closed Turnbuckle Body is also called Rigging Screw Body, Bottle Screws, Tensioners, Adjusters with metric/UNF/UNC thread. The turnbuckle closed body is made of 316 stainless steel for maximum corrosion resistance and durability. There is an engraved mark at one end to distinguish the right-hand or left-hand threads. Bespoke sizes are available.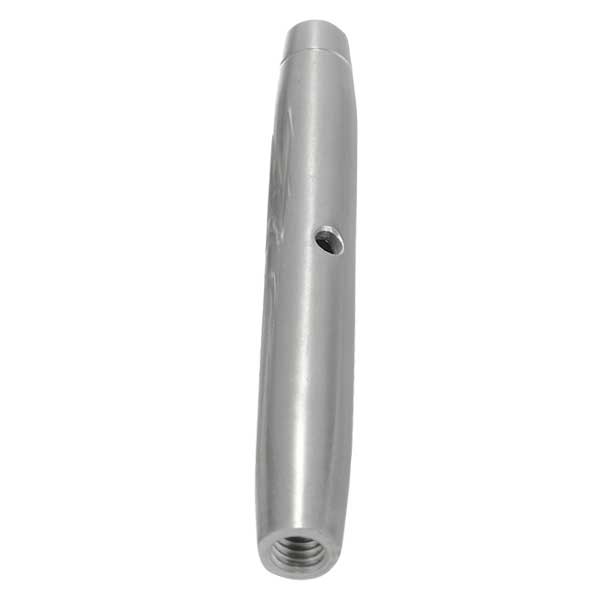 Material: Stainless Steel 316, 304 Solid bar.
Finish: Highly Polished.
Features: AISI316 Stainless steel is marine grade due to its good performance of corrosion resistance.
Metric Thread & UNF Thread.
There is a hole in the body for easy tightening by inserting an Allen key and rotating.
Bespoke sizes are available.
Applications: The bodies will be used for cable length adjustment & tensioning.
Metric Thread Specifications:

| Item | TH Metric | L mm | OD mm |
| --- | --- | --- | --- |
| M5 Turnbuckle Body | M5 | 80 | 8 |
| M6 Turnbuckle Body | M6 | 92 | 10 |
| M8 Turnbuckle Body | M8 | 112 | 13.5 |
| M10 Turnbuckle Body | M10 | 120 | 17.2 |
| M12 Turnbuckle Body | M12 | 150 | 21.3 |
| M14 Turnbuckle Body | M14 | 170 | 21.3 |
| M16 Turnbuckle Body | M16 | 190 | 26.9 |
| M20 Turnbuckle Body | M20 | 220 | 33.7 |
| M20 Turnbuckle Body | M20 | 240 | 40 |
| M22 Turnbuckle Body | M22 | 270 | 40 |
| M24 Turnbuckle Body | M24 | 325 | 50 |
| M30 Turnbuckle Body | M30 | 375 | 60 |
| M36 Turnbuckle Body | M36 | 410 | 65 |
UNF Thread Specifications:

| Item | Thread in | Wire mm | OD mm | L mm |
| --- | --- | --- | --- | --- |
| 1/4" Turnbuckle Body | 1/4 | 3 | 9.5 | 86 |
| 5/16" Turnbuckle Body | 5/16 | 4 | 12 | 98 |
| 3/8" Turnbuckle Body | 3/8 | 5 | 15 | 124 |
| 7/16" Turnbuckle Body | 7/16 | 6 | 17 | 136 |
| 1/2" Turnbuckle Body | 1/2 | 7 | 19 | 164 |
| 5/8" Turnbuckle Body | 5/8 | 8 | 25.4 | 210 |
| 3/4" Turnbuckle Body | 3/4 | 12 | 28.5 | 248 |
| 7/8" Turnbuckle Body | 7/8 | 14 | 35 | 278 |
| 1" Turnbuckle Body | 1 | 16 | 38 | 332 |
| 1 1/8" Turnbuckle Body | 1.125 | 19 | 44.5 | 369 |
| 1 1/4" Turnbuckle Body | 1.25 | 22 | 50.8 | 400 |
| 1 3/8" Turnbuckle Body | 1.375 | 26 | 54 | 460 |
Hits: 123