JIS Frame Turnbuckles|JIS Open Body Turnbuckles
The JIS Frame Turnbuckles are also called JIS Open Body Turnbuckles. There're types of hook & hook/CC, eye & hook/CO, eye & eye/OO, stud & studs. The frame turnbuckles are mainly to adjust chain or wire rope tension in the ship, constructions, or lifting rigging applications. Size ranges from 6 to 50 mm, and special sizes can be customized.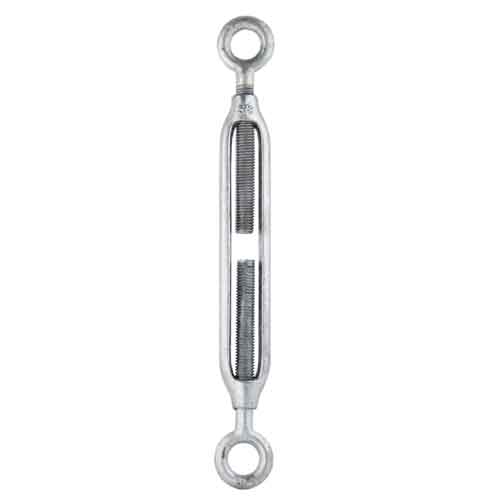 Material: Carbon Steel, Stainless Steel
Standard: JIS Standard
Process: Drop Forged
Heat treatment: Tempered
Finish: Hot Dip Galvanized, Electro-Galvanizing, Galvanized, Zinc Plated, Self Color, Polished
Size from 6 to 50mm and can bespoke
Applications: Lifting, Constructions, Marines, and etc.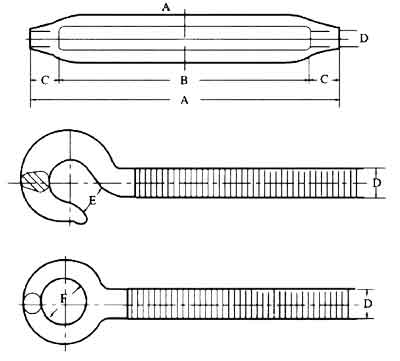 | | | | | | |
| --- | --- | --- | --- | --- | --- |
| BODY ONLY | | | | | |
| SIZE | A | B | C | T.L | W/PC |
| mm | mm | mm | mm | Ton | Kg |
| 6 | 100 | 78 | 11 | 1 | 0.08 |
| 8 | 125 | 100 | 12.5 | 1.2 | 0.15 |
| 9 | 150 | 120 | 12.5 | 1.5 | 0.17 |
| 12 | 200 | 164 | 18 | 2 | 0.29 |
| 16 | 250 | 202 | 21.5 | 3 | 0.52 |
| 19 | 300 | 250 | 25 | 4 | 0.85 |
| 22 | 325 | 269 | 28 | 5 | 1.17 |
| 25 | 350 | 285 | 32.5 | 6 | 1.69 |
| 32 | 400 | 310 | 45 | 8 | 3.51 |
| 38 | 450 | 350 | 55 | 10 | 5.08 |
| 44 | 500 | 386 | 57 | ▬ | 9 |
| 50 | 550 | 420 | 65 | ▬ | 11.5 |
| | | | | | |
| EYE&EYE | | | | | |
| SIZE | F | T.L | W/PC | | |
| mm | mm | Ton | Kg | | |
| 6 | 10 | 0.1 | 0.116 | | |
| 8 | 12 | 0.2 | 0.22 | | |
| 9 | 16 | 0.5 | 0.3 | | |
| 12 | 20 | 2 | 0.58 | | |
| 16 | 22 | 3 | 1.07 | | |
| 19 | 28 | 4 | 1.77 | | |
| 22 | 33 | 5 | 2.55 | | |
| 25 | 35 | 6 | 3.79 | | |
| 32 | 36X70 | 10 | 7.6 | | |
| 38 | 40X80 | 15 | 13.5 | | |
| 44 | ▬ | ▬ | ▬ | | |
| 50 | ▬ | ▬ | ▬ | | |
| | | | | | |
| HOOK&EYE | | | | | |
| SIZE | T.L | W/PC | | | |
| mm | Ton | Kg | | | |
| 6 | 0.04 | 0.114 | | | |
| 8 | 0.08 | 0.218 | | | |
| 9 | 0.15 | 0.293 | | | |
| 12 | 0.35 | 0.585 | | | |
| 16 | 0.7 | 1.05 | | | |
| 19 | 1 | 1.78 | | | |
| 22 | 1.5 | 2.58 | | | |
| 25 | 2 | 3.77 | | | |
| 32 | 3 | 7.52 | | | |
| 38 | 4 | 12.8 | | | |
| 44 | ▬ | ▬ | | | |
| 50 | ▬ | ▬ | | | |
| | | | | | |
| HOOK & HOOK | | | | | |
| SIZE | E | T.L | W/PC | | |
| mm | mm | Ton | Kg | | |
| 6 | 9 | 0.04 | 0.112 | | |
| 8 | 9 | 0.08 | 0.215 | | |
| 9 | 11 | 0.15 | 0.29 | | |
| 12 | 16 | 0.35 | 0.57 | | |
| 16 | 19 | 0.7 | 1.03 | | |
| 19 | 20 | 1 | 1.77 | | |
| 22 | 21 | 1.5 | 2.6 | | |
| 25 | 26 | 2 | 3.72 | | |
| 32 | 34 | 3 | 7.44 | | |
| 38 | 35 | 4 | 22 | | |
| 44 | ▬ | ▬ | 22 | | |
| 50 | ▬ | ▬ | 29 | | |
| | | | | | |
| STUBS | | | | | |
| SIZE | H | I(A2) | G | W/PC | |
| mm | mm | mm | mm | Kg | |
| 6 | 80 | 50 | 5.3 | 0.112 | |
| 8 | 100 | 63 | 6.9 | 0.22 | |
| 9 | 130 | 75 | 8.3 | 0.273 | |
| 12 | 150 | 100 | 11.2 | 0.51 | |
| 16 | 180 | 125 | 14.2 | 0.95 | |
| 19 | 220 | 150 | 17.2 | 1.62 | |
| 22 | 250 | 165 | 20.3 | 2.34 | |
| 25 | 270 | 175 | 23.3 | 3.27 | |
| 32 | 300 | 200 | 29 | 6.52 | |
| 38 | 330 | 225 | 38 | 13 | |
| 44 | ▬ | 250 | 44 | ▬ | |
| 50 | ▬ | 275 | 50 | ▬ | |
Hits: 20