Rope Pear Sockets|SO4 CR Socket|Short Bow Socket
Rope Pear Sockets are also known as SO4 CR Socket, Short Bow Socket. Like the Wedge Socket, Spelter Socket, Swage Socket, The pear sockets are used in anchor lines for temporary mooring between the chain and wire rope. It's made from high tensile cast steel and tempered for maximum strength. The molded wire can't turn out of the cone during use.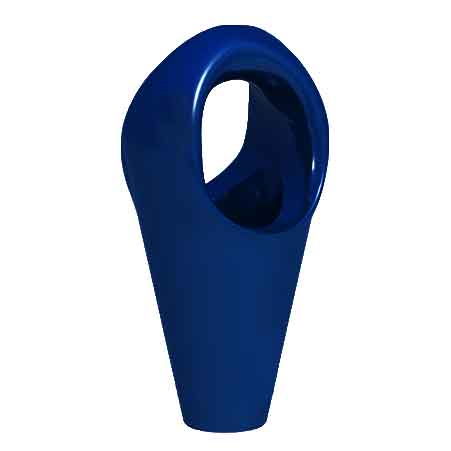 Material: High Tensile Cast Steel.
Finish: hot dipped galvanized, Painting or upon request.
Temperature Range: -20°C up to +200°C. Use at higher temperatures possible with reduction of WLL.
Standard: Federal RR-S-550/EN 13411-6.
Sockets are proof loaded at 40% of the MBL up to an MBL of 875 Mtons.
Packing: Carton with pallet.
Bespoke sizes are available.
Applications: lifting, rigging, towing and constructions.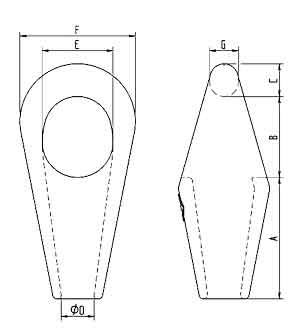 | MBL ton | Dia mm | Rope dia. inch | Weight kg/ea | A mm | B mm | C mm | D mm | E mm | F mm | G mm |
| --- | --- | --- | --- | --- | --- | --- | --- | --- | --- | --- |
| 140 | 31-36 | 1 1/4 - 1 3/8 | 7 | 140 | 85 | 38 | 39 | 75 | 124 | 35 |
| 160 | 37 - 42 | 1 1/2 - 1 5/8 | 11 | 160 | 110 | 42 | 44 | 92 | 150 | 38 |
| 200 | 43 - 48 | 1 3/4 - 1 7/8 | 18 | 188 | 128 | 50 | 51 | 110 | 180 | 45 |
| 250 | 49 - 54 | 2 - 2 1/8 | 25 | 215 | 125 | 55 | 57 | 115 | 200 | 50 |
| 300 | 55 - 60 | 2 1/4 - 2 3/8 | 35 | 230 | 145 | 65 | 63 | 135 | 230 | 57 |
| 400 | 61 - 68 | 2 1/2 - 2 5/8 | 51 | 250 | 160 | 75 | 73 | 160 | 262 | 65 |
| 500 | 69 - 75 | 2 3/4 - 2 7/8 | 62 | 280 | 175 | 80 | 79 | 171 | 278 | 70 |
| 600 | 76 - 80 | 3 - 3 1/8 | 75 | 315 | 210 | 85 | 86 | 184 | 300 | 75 |
| 700 | 81 - 86 | 3 1/4 - 3 3/8 | 93 | 340 | 205 | 100 | 92 | 204 | 320 | 90 |
| 800 | 87 - 93 | 3 1/2 - 3 5/8 | 110 | 360 | 220 | 105 | 99 | 215 | 340 | 95 |
| 900 | 94 - 102 | 3 3/4 - 4 | 141 | 380 | 240 | 108 | 108 | 234 | 376 | 100 |
| 1000 | 108 - 115 | 4 1/4 - 4 1/2 | 186 | 450 | 260 | 125 | 120 | 252 | 400 | 110 |
| 1250 | 122 - 130 | 5 | 317 | 517 | 293 | 140 | 140 | 275 | 460 | 125 |
| 140 | 31 - 36 | 1 1/4 - 1 3/8 | 7 | 140 | 85 | 38 | 39 | 75 | 124 | 35 |
| 160 | 37 - 42 | 1 1/2 - 1 5/8 | 11 | 160 | 110 | 42 | 44 | 92 | 150 | 38 |
| 200 | 43 - 48 | 1 3/4 - 1 7/8 | 18 | 188 | 128 | 50 | 51 | 110 | 180 | 45 |
| 250 | 49 - 54 | 2 - 2 1/8 | 25 | 215 | 125 | 55 | 57 | 115 | 200 | 50 |
| 300 | 55 - 60 | 2 1/4 - 2 3/8 | 35 | 230 | 145 | 65 | 63 | 135 | 230 | 57 |
| 400 | 61 - 68 | 2 1/2 - 2 5/8 | 51 | 250 | 160 | 75 | 73 | 160 | 262 | 65 |
| 500 | 69 - 75 | 2 3/4 - 2 7/8 | 62 | 280 | 175 | 80 | 79 | 171 | 278 | 70 |
| 600 | 76 - 80 | 3 - 3 1/8 | 75 | 315 | 210 | 85 | 86 | 184 | 300 | 75 |
| 700 | 81 - 86 | 3 1/4 - 3 3/8 | 93 | 340 | 205 | 100 | 92 | 204 | 320 | 90 |
| 800 | 87 - 93 | 3 1/2 - 3 5/8 | 110 | 360 | 220 | 105 | 99 | 215 | 340 | 95 |
| 900 | 94 - 102 | 3 3/4 - 4 | 141 | 380 | 240 | 110 | 108 | 234 | 376 | 100 |
| 1000 | 108 - 115 | 4 1/4 - 4 1/2 | 186 | 450 | 260 | 125 | 120 | 252 | 400 | 110 |
| 1250 | 122 - 130 | 5 | 317 | 517 | 293 | 140 | 140 | 275 | 460 | 125 |
Hits: 71