Stainless Steel U Bolt|Bow/Stern Eye U-Bolts
Stainless Steel U Bolt is made from 316 marine grade stainless steel. The Bow/Stern Eye U Bolts are designed with nuts, washers, and mounting plates. Sizes from M4 to M12 and can bespoke. The U bolt is widely used for marine, industry, and architecture.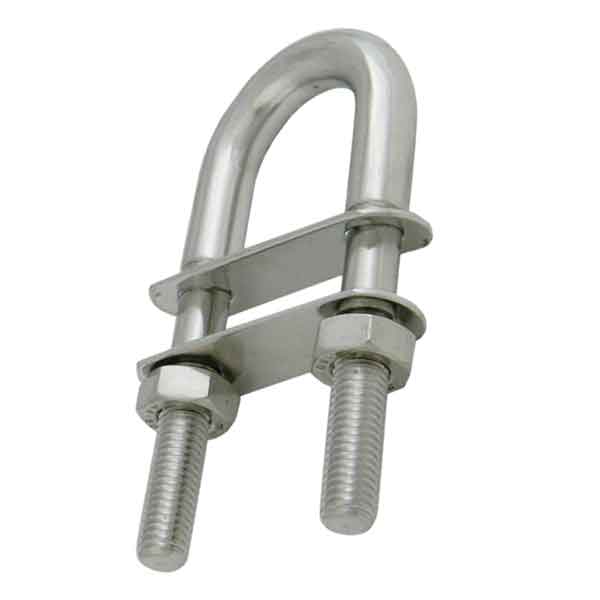 Material: Stainless Steel 316, 304.
Processing: Forged.
AISI316 Stainless steel is marine grade due to its good performance of corrosion resistance.
Finish: Highly Polished.
Application: Marine, Industry, Architecture.
Packing: Plywood cases.
Bespoke sizes are available.
Warning: Not to be used for overhead lifting.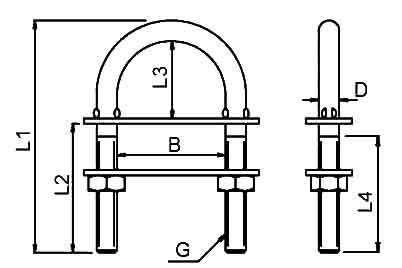 | Item | G mm | L1 mm | L2 mm | L3 mm | L4 mm | B mm | D mm | Break Load Kg |
| --- | --- | --- | --- | --- | --- | --- | --- | --- |
| M4 x 35 U Bolt | M4 | 66 | 35 | 25 | 30 | 26 | 4 | 750 |
| M5 x 35 U Bolt | M5 | 67 | 35 | 25 | 30 | 25 | 4.4 | 900 |
| M6 x 35 U Bolt | M6 | 67 | 35 | 26 | 30 | 27 | 5.3 | 1250 |
| M6 x 50 U Bolt | M6 | 84 | 50 | 26 | 30 | 27 | 5.3 | 1250 |
| M8 x 35 U Bolt | M8 | 71 | 35 | 26 | 30 | 25 | 7.1 | 1750 |
| M8 x 50 U Bolt | M8 | 86 | 50 | 26 | 30 | 25 | 7.1 | 1750 |
| M8 x 80 U Bolt | M8 | 116 | 80 | 26 | 30 | 25 | 7.1 | 1750 |
| M10 x 45 U Bolt | M10 | 95 | 43 | 40 | 40 | 30 | 10 | 3500 |
| M10 x 60 U Bolt | M10 | 110 | 58 | 40 | 35 | 30 | 10 | 3500 |
| M10 x 100 U Bolt | M10 | 150 | 98 | 40 | 85 | 30 | 10 | 3500 |
| M12 x 80 U Bolt | M12 | 122 | 80 | 30 | 85 | 35 | 10.8 | 5100 |
Hits: 16