Stainless Steel Swage Stud|SS316 Swage Thread Terminal
Stainless Steel Swage Stud has right-hand & left-hand thread. Both UNF & Metric thread is available. The swage stud thread terminal will fit 3mm-16mm wire rope. It's easy to be swaged or crimped to ropes by hand. The material of grade 316 stainless steel makes it has excellent resistance to corrosion. It's a good choice for yacht rigging, construction, balustrade use.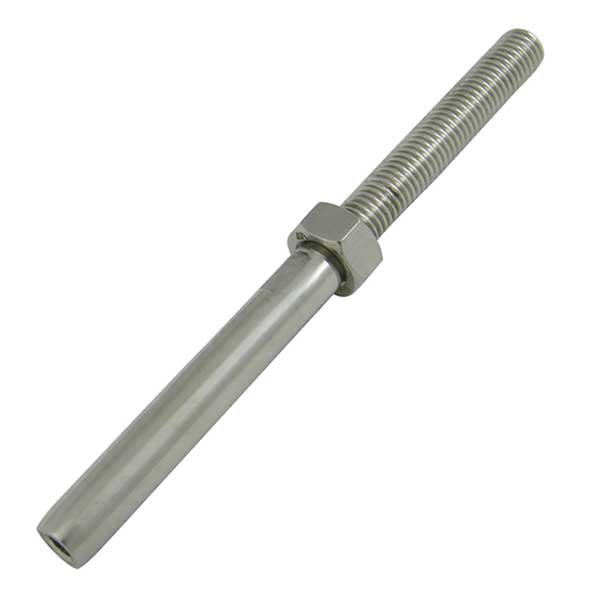 Material: Stainless Steel 316, 304.
Finish: Polished.
Thread: Left hand or Right Hand, Metric or UNF thread.
Features: AISI316 Stainless steel is marine grade due to its good performance of corrosion resistance.
Applications: Sails boats, yacht rigging, architectural,Structural systems, cable railing, balustrade, and etc.
Note: The parameters in the form are for metric threads of right hand & left hand. UNF thread terminals are also available.

Swage Stud Metric Thread Right Hand Thread Specifications:
| Item | Rope (mm) | TH (M) | CT (mm) | L (mm) | D (mm) |
| --- | --- | --- | --- | --- | --- |
| 3mm M6 Stud | 3 | M6 | 48 | 100 | 6.4 |
| 4mm M6 Stud | 4 | M6 | 48 | 110 | 7.5 |
| 4mm M8 Stud | 4 | M8 | 54 | 113 | 7.5 |
| 5mm M8 Stud | 5 | M8 | 57 | 124 | 9 |
| 5mm M10 Stud | 5 | M10 | 63 | 130 | 9 |
| 6mm M10 Stud | 6 | M10 | 63 | 145 | 12.6 |
| 6mm M12 Stud | 6 | M12 | 80 | 162 | 12.6 |
| 8mm M12 Stud | 8 | M12 | 80 | 180 | 16 |
| 8mm M16 Stud | 8 | M16 | 100 | 200 | 16 |
| 10mm M16 Stud | 10 | M16 | 100 | 210 | 17.8 |
| 12mm M20 Stud | 12 | M20 | 120 | 245 | 20 |
| 14mm M22 Stud | 14 | M22 | 140 | 325 | 25 |
| 16mm M27 Stud | 16 | M27 | 160 | 371 | 28.2 |
Swage Stud Metric Thread Left Hand Thread Specifications:
| Item | Rope (mm) | TH (M) | CT (mm) | L (mm) | D (mm) |
| --- | --- | --- | --- | --- | --- |
| 3mm M6 Stud (L) | 3 | M6 | 48 | 100 | 6.4 |
| 4mm M6 Stud (L) | 4 | M6 | 48 | 110 | 7.5 |
| 4mm M8 Stud (L) | 4 | M8 | 57 | 117 | 7.5 |
| 5mm M8 Stud (L) | 5 | M8 | 57 | 124 | 9 |
| 5mm M10 Stud (L) | 5 | M10 | 63 | 130 | 9 |
| 6mm M10 Stud (L) | 6 | M10 | 63 | 145 | 12.6 |
| 6mm M12 Stud (L) | 6 | M12 | 80 | 162 | 12.6 |
| 8mm M12 Stud (L) | 8 | M12 | 80 | 180 | 16 |
| 8mm M16 Stud (L) | 8 | M16 | 100 | 200 | 16 |
| 10mm M16 Stud (L) | 10 | M16 | 100 | 210 | 17.8 |
| 12mm M20 Stud (L) | 12 | M20 | 120 | 245 | 20 |
| 14mm M22 Stud (L) | 14 | M22 | 140 | 325 | 25 |
| 16mm M27 Stud (L) | 16 | M27 | 160 | 371 | 28.2 |
Hits: 77