Machined Swage Fork|Clevis Fork Terminal|Jaw Terminal SS316
Machined Swage Fork is machined from AISI316 Stainless Steel solid bar. It has a clevis fork/Jaw head and a swage stud at the other end. The Jaw terminal is highly polished with a clevis pin. It's stronger than the welded swage fork terminals. The swage terminals have maximum corrosion resistance and can be used in marine environments. Sizes from 3mm to 26mm.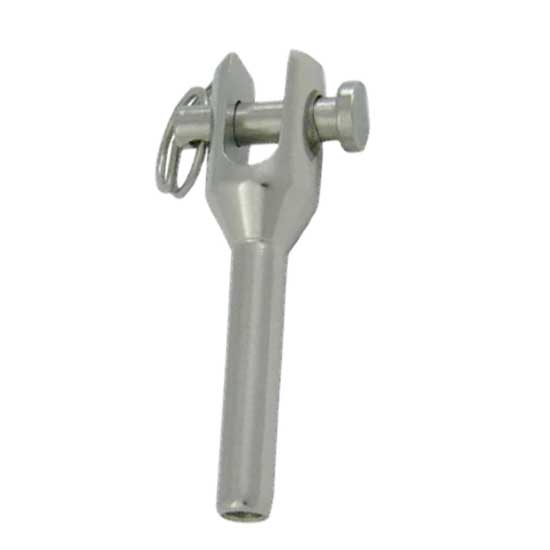 Material: Stainless Steel 316, 304 Solid bar.
Finish: Highly Polished.
Features: AISI316 Stainless steel is marine grade due to its good performance of corrosion resistance.
Suitable for use with rotary & fixed die swaging machine.
Sizes: 3mm t0 26mm; Bespoke sizes are available.
Use with 1×19, 7X19,7X7 Strand, and compacted strand Metric and inch wire rope (IWRC).
Applications: Sails boats, yacht rigging, masts, spreaders, architectural, Structural systems, cable railing, balustrade, and etc.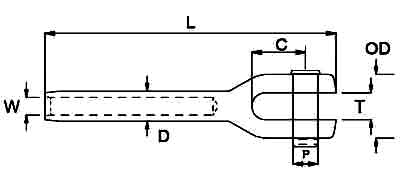 | Item | W (mm) | P (mm) | D (mm) | C (mm) | T (mm) | L (mm) | OD(mm) |
| --- | --- | --- | --- | --- | --- | --- | --- |
| 3mm Swage Fork | 3 | 6 | 6.5 | 14 | 7.5 | 81 | 15 |
| 4mm Swage Fork | 4 | 8 | 7.5 | 15.5 | 11 | 95 | 20 |
| 5mm Swage Fork | 5 | 9 | 9 | 19 | 12 | 112 | 23 |
| 6mm Swage Fork | 6 | 12 | 12.5 | 27 | 14 | 142 | 27 |
| 7mm Swage Fork | 7 | 12 | 14.2 | 30 | 15 | 150 | 28 |
| 8mm Swage Fork | 8 | 12 | 16 | 25 | 12.7 | 140 | 28.6 |
| 8mm Swage Fork | 8 | 16 | 16 | 28 | 17 | 165 | 34.9 |
| 10mm Swage Fork | 10 | 16 | 18 | 32 | 16 | 174 | 38.1 |
| 12mm Swage Fork | 12 | 19 | 21.4 | 38 | 19 | 227 | 47.6 |
| 14mm Swage Fork | 14 | 22 | 25 | 45 | 22.2 | 258 | 54 |
| 16mm Swage Fork | 16 | 25.4 | 28.2 | 50 | 25.4 | 295.5 | 63.5 |
| 19mm Swage Fork | 19 | 28 | 34.5 | 58 | 28.6 | 342 | 69.9 |
| 22mm Swage Fork | 22 | 32 | 40.3 | 64 | 32 | 391 | 76.2 |
| 26mm Swage Fork | 26 | 35 | 45.9 | 70 | 35 | 451.5 | 82.5 |
Hits: 34