Stainless Steel Swage Fork|Swage Marine Jaw|Fork Terminal
Stainless Steel Swage Fork Terminals with clevis pin are made of AISI316 grade stainless steel for maximum corrosion resistance and durability. The terminals will fit wide ranges of wire rope from 3mm-26mm. The fork head is welded on the swage terminal body and then polished. We also manufacture swage terminals of swage studs, swage eyes, swage toggles, swage rigging screws.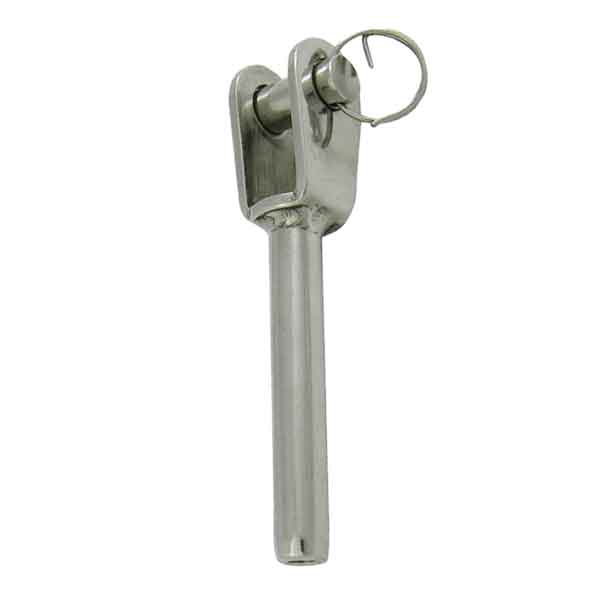 Material: Stainless Steel 316, 304.
Finish: Polished.
Features: AISI316 Stainless steel is marine grade due to its good performance of corrosion resistance.
Applications: Sails boats, yacht rigging, architectural, Structural systems, cable railing, balustrade, and etc.
Packing: Plastic bag inside, Carton outside with pallet.
Sizes: 3mm-26mm. For bespoke sizes, contact us for further discussion.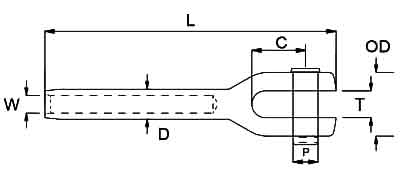 | Items | W (mm) | P (mm) | D (mm) | C (mm) | T (mm) | L (mm) | OD (mm) |
| --- | --- | --- | --- | --- | --- | --- | --- |
| 3mm Swage Fork | 3 | 6 | 6.5 | 14 | 7.5 | 81 | 15 |
| 4mm Swage Fork | 4 | 8 | 7.5 | 15.5 | 11 | 95 | 20 |
| 5mm Swage Fork | 5 | 9 | 9 | 19 | 12 | 112 | 23 |
| 6mm Swage Fork | 6 | 12 | 12.5 | 27 | 14 | 142 | 27 |
| 7mm Swage Fork | 7 | 12 | 14.2 | 30 | 15 | 150 | 28 |
| 8mm Swage Fork | 8 | 12 | 16 | 25 | 12.7 | 140 | 28.6 |
| 8mm Swage Fork | 8 | 16 | 16 | 28 | 17 | 165 | 34.9 |
| 10mm Swage Fork | 10 | 16 | 18 | 32 | 16 | 174 | 38.1 |
| 12mm Swage Fork | 12 | 19 | 21.4 | 38 | 19 | 227 | 47.6 |
| 14mm Swage Fork | 14 | 22 | 25 | 45 | 22.2 | 258 | 54 |
| 16mm Swage Fork | 16 | 25.4 | 28.2 | 50 | 25.4 | 295.5 | 63.5 |
| 19mm Swage Fork | 19 | 28 | 34.5 | 58 | 28.6 | 342 | 69.9 |
| 22mm Swage Fork | 22 | 32 | 40.3 | 64 | 32 | 391 | 76.2 |
| 26mm Swage Fork | 26 | 35 | 45.9 | 70 | 35 | 451.5 | 82.5 |
Hits: 15