Twist Shackles|Twisted Shackle with Screw Pin Stainless Steel
Twist Shackles are made of stainless steel 316 or 304 for corrosion resistance. It provides a 90-degree change in direction. The twisted shackle can keep the chains or ropes from twisting & getting kinked. The shackle should be pulled in a straight line. They are usually used to connect the block to the mast or halyard to the sailboat. Special sizes can bespoke.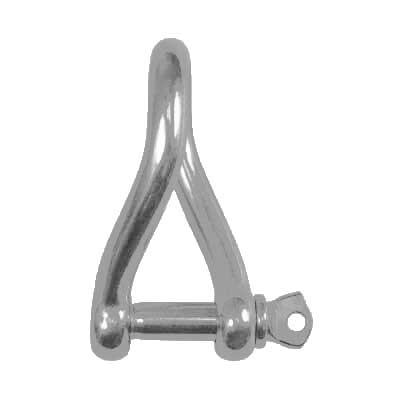 Material: Stainless Steel 316, 304 Solid bar.
Finish: Highly Polished.
Process: Forged.
Features: AISI316 Stainless steel is marine grade due to its good performance of corrosion resistance.
The Thimbles will be used to keep the chains or ropes from twisting & kinking.
Standard: European Standard, US Federal Specifications Standard.
Packing: Carton with pallet.
Bespoke sizes are available.
Applications: Lifting, Marine.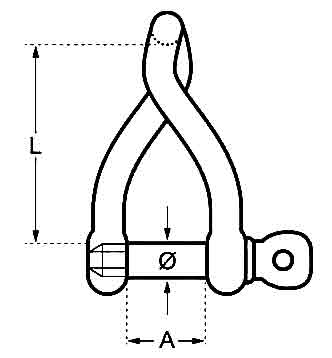 | Item | Ø mm | A mm | L mm |
| --- | --- | --- | --- |
| 5mm Twist Shackle | 5 | 10 | 27 |
| 6mm Twist Shackle | 6 | 12 | 30 |
| 8mm Twist Shackle | 8 | 16 | 42 |
| 10mm Twist Shackle | 10 | 20 | 55 |
| 12mm Twist Shackle | 12 | 24 | 65 |
Hits: 18